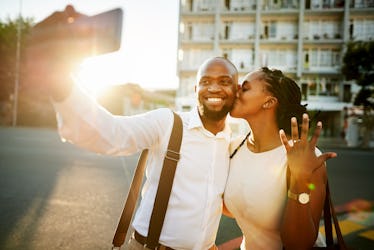 15 Super Creative Ways To Celebrate Your Engagement At Home With Your SO
AJ_Watt/E+/Getty Images
Your partner listened to Beyoncé's advice and put a ring on it. They got down on one knee and asked you to marry them, and you replied with a sweet and easy, "Yes!" Right after, you may have opened a bottle of your favorite champagne, made a post on Instagram, or kissed a million times. Getting engaged is a big deal and it's so worth finding creative ways to celebrate your engagement at home before you dig into your wedding plans.
Odds are, you've been dreaming about this moment since you watched a romantic comedy for the first time and laughed with your SO over pizza on your first date. Soaking up the bliss and taking time to remember how you feel each and every second is essential. (It's like when Leslie and Ben get engaged in Parks and Recreation and she quickly asked him to pause so she could notice every detail. You know?) Soon enough, you're going to be looking at beautiful venues near the water, picking out flowers for your bouquet, and following up your "yes" with an, "I do."
Don't skip any steps along the way. Make a point to celebrate your engagement in your backyard with a picnic, or in your living room with your BFFs over FaceTime. These creative ideas will get you two started.