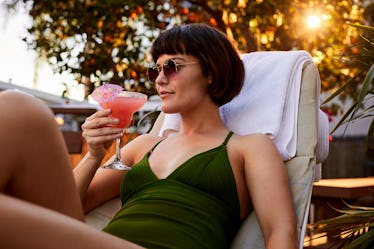 These Online Cocktail Classes Will Shake Up Your Usual Happy Hour At Home
Goodboy Picture Company/E+/Getty Images
The moment you saw a picture of a frozen margarita on Instagram or saw Stanley Tucci mixing up a cocktail on Twitter, you made a decision: You have to take online cocktail classes when you have some free time. The way Tucci shakes up the liquor in his cocktail shaker and delicately pours it into the appropriately-shaped glass is mesmerizing. You want to be able to do the same, and show off your skills to your besties and family members during a virtual happy hour.
Where do you even begin? Are there certain skills you have to learn before you can reach Tucci-level mixology? Before even attempting to get the ice out of your freezer or name your signature drink, you may want to search for some expert advice on the Internet. You may want to tune into videos from the professionals where they combine ingredients and make the most of what's in their fridge at the moment, and listen to the "how" and the "why."
Lucky for you, there are tons of cocktail classes you can take. If you play them while sitting in your kitchen with a notebook and a cute margarita glass by your side, then you'll be so inspired to learn everything there is to know about this craft. Here are 10 online cocktail classes that'll surely shake up your usual happy hour at home.