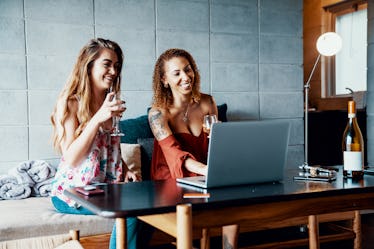 10 Online Wine Classes That'll Let You Achieve Grape-ness At Home
tdub303/E+/Getty Images
When it comes to wine, you want to know everything. You want to know what cheese pairs best with a cabernet, and how your favorite riesling is made step-by-step. In the past, you may have visited a nearby winery to pick a winemaker's brain and get the details on how pick out the perfect bottle for a dinner party. Why don't you check out some online wine classes next? They'll help you achieve grape-ness in your spare time and learn about all things related to vino.
Not to mention, they don't require hopping on a plane to Napa Valley or the lovely vineyards settled into the countryside of France. Instead, they bring the rich information to wherever you are, whether that be on your couch or in your kitchen where you have easy access to a bottle opener and wine glass. They teach you how to properly sniff out the flavors and notes in a merlot or what parts of the world are known for brewing wine that complements a chicken or fish dish.
Some even come with an official certification at the end, if you pass the necessary quizzes and tests to become a wine connoisseur. So, don't pass on these 10 online wine classes. Pour yourself a glass and achieve grape-ness right at home.