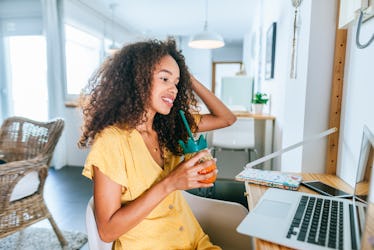 14 Virtual Happy Hour Icebreakers That'll Bring Your Crew Closer Than Ever
F.J. Jimenez/Moment/Getty Images
Are you hopping on the virtual happy hour bandwagon with your besties at work, long-distance friends from college, or your crush? Finally! Your laptop's camera and microphone have been waiting for this fun moment, and preparing for the games, drinks, and laughs to come. Hopefully, you have a glass of wine or conversation topics ready for when you dial in at 5 p.m. Of course, you can always try virtual happy hour icebreakers, too, and bring everyone closer together.
That is the goal of icebreaker activities, after all. They're meant to get rid of any awkward silences that may come up when you and your friends are still trying to figure out the features in Zoom, or your coworkers are waiting for everyone to sign on. They're made for starting lively debates over which character from Friends is the best, or what condiment could be ditched at the next barbecue. (Ketchup? No, thanks.)
Most notably, if you're hanging out with the people on the other side of the screen for the first time — or even just the first time in a while — an icebreaker activity gives you a chance to get to know them fast. The 14 icebreakers below let you catch up and feel closer to your coworkers, besties, and SO while you hang out ~virtually~.