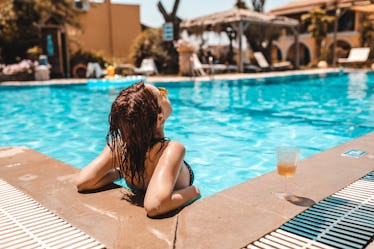 These Virtual Backgrounds Let You Sip In Seriously Cool Hotels & Rooftop Bars
Kosamtu/E+/Getty Images
Whether you're having a Zoom meeting with coworkers, catching up with friends for virtual happy hour at home, or even planning a future trip with long-distance friends, you might want to spice up your backdrop. That's where HotelTonight's virtual backgrounds will come in handy.
These backgrounds are made for satisfying your wanderlust. They'll bring the most stunning hotel lobbies, rooftop pools, trendy bars, and sunsets a whole lot closer to you, without you having to leave your couch. They capture the essence of a perfectly-designed lobby and the easygoing atmosphere of a patio that's basking in the sun. When you're sitting outside with your laptop, sipping on a drink you made courtesy of a recipe on TikTok, these cool backgrounds will make you feel like you're actually traveling and seeing these sights in real life.
They may even inspire you to add some destinations to your bucket list, for when you can travel again. Do yourself a favor and sit back and enjoy these 10 virtual background from HotelTonight. Pretend you're sipping a drink in a fun restaurant or a stylish lounge chair. Let your worries float away with the ripples in the pool or the stitching in the pink pillows.