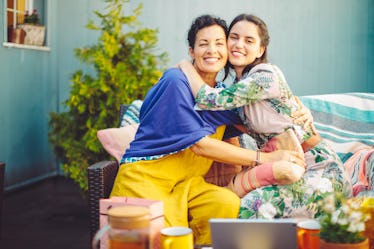 10 Really Unique Backyard Birthday Ideas For Your Mom
Eva-Katalin/E+/Getty Images
If your mom is your bestie, you'd do everything in your power to show how much you appreciate her — especially on her birthday. Showering her with all that love means putting together a fabulous plan for the occasion. You already have the perfect location right at home, and these backyard birthday ideas for your mom will make the planning process easy and fun.
If you asked your mom, she'd probably be modest and say she's cool with just spending time with you, but you know she deserves so much more. That's why it's time to think of something epic. You've got prosecco, presents, and decorations on your to-do list, so deciding on a party theme like any of these 10 backyard birthday party ideas will help.
Use your own backyard for inspiration. If your space has a lot of gorgeous blooms, you might want to consider hosting a garden tea party or making floral arrangements together. You could even take a trip down Memory Lane and recreate your fave backyard family photos or watch your mom's favorite movies with an outdoor projector. Create new memories by sipping wine and painting or mixing together homemade candles and soaps.
The possibilities are endless. Simply choose the plan that suits your mom best and have fun celebrating her.