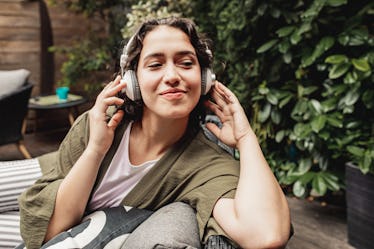 These Backyard Birthday Ideas For Leos Are So Fun & Easy To Put Together
Smiljana Aleksic/E+/Getty Images
Every summer, you feel so lucky that your birthday falls in the middle of summer, Leo. In the past, you may have hosted a party on the beach (in true Princess Diaries fashion) or gone to an outdoor bar. This year, your plans might be in your very own backyard, so you're searching for backyard birthday ideas for Leos that are easy to put together.
Due to the coronavirus pandemic, you're staying safe at home and celebrating at a distance. Since you're the social butterfly of your friend group, having a chill birthday at home isn't necessarily in your wheelhouse. You're a pro at bopping between different conversation circles and starting up lively games of volleyball, badminton, or soccer on the beach. In other words, you're finding yourself asking one major question going into your plans: "Where do I even begin?"
Don't fret. Your birthday can still feel incredibly special and social, even though you're spending it at home. You just need to recreate one of the backyard birthday ideas listed below that are made for Leos, and pretty simple to put together, too. The universe knows that, as a Leo, you'd rather spend less time planning and spend more time enjoying the day. These ideas will hit that mark and make your day as lit as your fire sign.