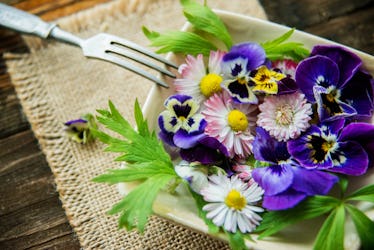 These Edible Flower Cookbooks Are Bloomin' Additions To Your Collection
Shutterstock
The presentation of your dish is just as important as the taste of it. A fun way to transform your meals from OK to totally Insta-worthy is by using edible flowers. And if you're looking to upgrade your skills in the kitchen, you might want to grab a few edible flower cookbooks to know just what ingredients to use. There's a lot more that goes into incorporating floral accents into your food than just placing a few vibrant blooms on your plate for decor.
Not only can you add certain flowers to your dishes and beverages, but you can also learn how to create realistic-looking flowers out of buttercream for your desserts. Soon enough, your dishes and drinks will look like something straight out of a food magazine. All you need to do to get started is add any of these edible flower cookbooks to your kitchen shelf. There's a variety of books to choose from, whether you're looking for sweet treats for your next date night at home, or full meals for a garden dinner party with your roomies.
Since your blooming eats and sips will be the definition of Instagram-worthy, you'll want to keep a few flower captions on hand for the foodie pics you'll be snapping. As soon as you post, you'll start to see all the lilacs start to roll in.