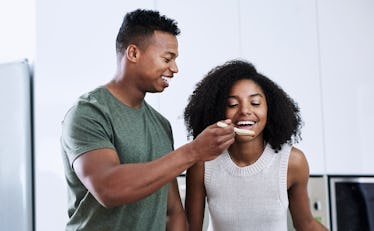 These Cookbooks By Black Authors Are Filled With Inspiring Stories & Tasty Recipes
Dean Mitchell/E+/Getty Images
If you're ready to further diversify your palette, there are tons of cookbooks written by Black authors ready to be part of your growing kitchen collection. During a time when it's imperative to amplify Black voices and promote the work of Black creators, especially in the cooking space, these books will not only increase your awareness of and appreciation for the traditions behind these delectable dishes, but you'll also be encouraging and bolstering future support for the Black community.
In addition to dynamite recipes, you'll find each cookbook on this list is fit to burst with anecdotes and memories that make each plate more meaningful and enjoyable to prepare. In Jerrelle Guy's cookbook, Black Girl Baking: Wholesome Recipes Inspired by a Soulful Upbringing, she includes snacks that remind her of her childhood. Her father loved "the marriage of the sweet and salty" topping on an oatmeal cream pie with sliced cheddar cheese. At the time, Guy thought the orange cheese on top was gross, but it later served as inspiration behind the Oatmeal Cheddar Cheese Moon Pies in her cookbook.
Jam Sessions, created by the team at Trade Street Jam Co., is jam-packed with delicious drinks, waffles, and dressings, each developed and shared on social media by owner and CEO Ashley Rouse. The cookbook spotlights low-sugar, vegan jam, as Rouse guides you in making them part of your pizza or grill nights. She created the recipes after quitting her job and moving to Brooklyn, telling Essence in Feb. 2019 that the book was inspired by fans requesting a cookbook of her jams and more. The final masterpiece has spunk and personality, with its colorful pages and pun-laded recipes inspiring you to create a jam session of your own as you cook your way through its pages.
Adding any of these cookbooks to your shelf should always be a no-brainer, but as people across the U.S. come together to protest unjust instances of police brutality, and as thousands donate to bail funds after the senseless death of George Floyd and the killings of Rayshard Brooks, Breonna Taylor, Ahmaud Arbery, Philando Castille, Tamir Rice, Oscar Grant, and dozens more, use this moment to analyze your cookbook collection. Make a concerted effort to diversify what you read and how you cook by adding more Black authors to your shelf.