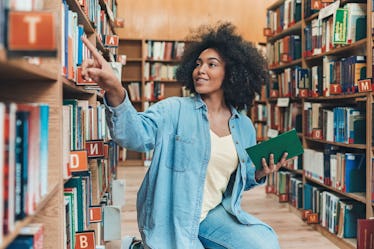 22 Black-Owned Bookstores You Can Order From Online
pixelfit/E+/Getty Images
There are countless ways you can show up for the Black community, including protesting police brutality; donating to bail funds and mutual aid funds; signing petitions to get justice for the murders of George Floyd, Breonna Taylor, and too many others; having conversations with non-Black friends and family who still have a lot to learn about race; and supporting Black-owned businesses. When you shop at Black-owned bookstores, you can put your money to good use while picking up educational or just plain entertaining books.
Whether you're looking to bolster your knowledge about race and privilege (check out How to Be an Anti-Racist by Ibram X. Kendi) or you're in the market for an uplifting romance (hi, it's You Should See Me in a Crown by Leah Johnson), Black-owned bookstores stock an array of fiction and non-fiction. Some stores double as coffee shops, bars, and art galleries; most host events ranging from book signings to book clubs to open mic nights.
Below, you'll find 22 Black-owned bookstores across the country, in both big cities and small towns, organized alphabetically. These stores can be shopped online, and they're well worth an IRL visit when they re-open following closures due to the coronavirus pandemic. While it's great to support your local indie Black-owned bookstore now, don't stop at a one-time purchase. Your solidarity with these stores shouldn't be a flash-in-the-pan trend; these stores are crucial pillars of their local communities.
As DeShanta Hairston, owner and founder of Books and Crannies in Martinsville, Virginia, tweeted on June 2, "Can you imagine, I refrained from putting black owned in my bio for years in fear of losing out on potential white customers? Well I am indeed black and this is my store and I will be screaming it from the mountain tops moving forward."
Keep reading for more on Hairston's store, plus plenty of others.