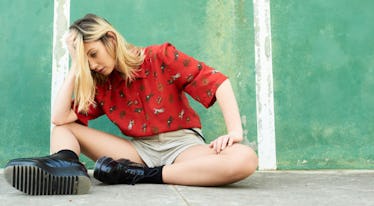 Here's How To Get Over Someone You're Still In Love With, Because It's Honestly So Hard
Dating is one of those "no risk, no reward" things — if you don't ever put your heart on the line, your odds of finding happiness and falling in love are pretty slim. But unfortunately, that means that sometimes you get your heart broken, and one of the hardest things you will ever have to figure out is how to get over someone you're still in love with.
I'm still deep in the throes of getting over my last breakup, and I'll be honest: Even when time starts to heal your broken heart, it still sucks. My partner had promised me a future together. I thought I'd finally found my person — and then one day, it was all just gone. But the worst part — the part that still punches me in the gut sometimes when I'm reminded of her — wasn't that the future I thought I was going to have no longer existed or even really that she was gone. It was not knowing how to stop loving someone who didn't love me back anymore. Eventually I got there, but, ugh, nothing prepares you for that feeling.
If you're in a similar situation right now, here are some things you can do to get over a relationship your heart isn't quite ready to let go of yet.