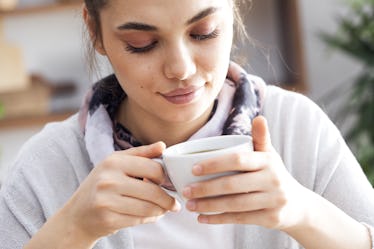 6 Little Ways To Be Kind To Yourself If You Always Beat Yourself Up For Everything
How heartbreaking is it that we're usually our own worst critics? I want you to take a moment to consider how many times you've consoled a loved one by offering wisdom along the lines of, "you're doing the best you can," "don't be so hard on yourself," or "give yourself more credit." How many times can you honestly say you've cut yourself the same amount of slack? I'm going to throw you for a curve here, but you really should treat yourself the way you treat family and friends, with love, light, and compassion. I understand it can be difficult to figure out how to be kind to yourself when you're busy navigating how to excel in the workplace, on top of maintaining healthy, happy relationships, and finding a content work-life balance — but it is possible, and it's important. You, above all people, are worthy of your own kindness.
I know myself, and I'm totally guilty of hardly ever giving myself a break. Thanks in large part to my type A personality, I tend to tell myself there is always more I could be doing, more areas I can improve on, and the very millisecond I let my guard down and relax, the self-assigned critiques come flooding in. And I know it's not just my fellow, relentless over-achievers who have experienced these feelings.
I'm willing to bet that most of us have, or will have experienced, self-doubt at some point in our lives. We'll all grapple with that small, pesky voice inside our heads reviewing something we've said, done, or failed to accomplish on a loop until it makes us sick. Wanting the best for yourself is fantastic, but wearing yourself down because you've slipped up can be exhausting, not to mention mentally and physically debilitating.
Don't know where to start? Read on for a few tips and tricks that can help you be kind to yourself when you need it most.