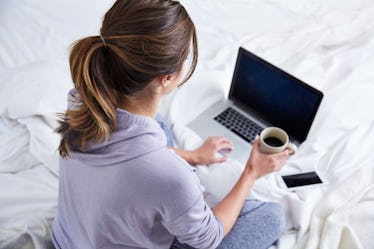 If You're Looking For A Therapist, These 6 Tips Will Make Your Search So Much Easier
I wish I could say the first time I met with a therapist wasn't a complete and utter disaster, but it was literally one of the worst experiences of my life. Picture this: I was a 20-year-old college sophomore battling a combination of anxiety and symptoms of depression, and this woman not only made me feel like I was boring her, but I'm pretty sure, in her extra special passive-aggressive way, she basically told me to get over it. Looking back, I definitely wish I'd asked someone for tips for finding the right therapist instead of blindly making an appointment with the first person my alma matter offered to me, but thankfully, I was able to call the counselor's office and arrange a swap to someone I immediately clicked with and felt comfortable talking to.
There are probably hundreds of thousands of therapists in the world, but finding the right one for you can be a challenge. First, there's the question of what kind of therapy is right for you — because there are a ton, from cognitive behavior therapy, which is a type of psychotherapy that heavily focuses on problem solving tactics, to group therapy, which can involve one or more psychologists treating five to 15 patients at a time in workshops. Then there's the struggle of finding someone you not only feel comfortable talking to but also someone you like talking to, and the check list goes on. It can be an extremely lengthy, complicated endeavor, but to save you the headache, here are a few expert tips to finding the right therapist before you commit to the wrong one.