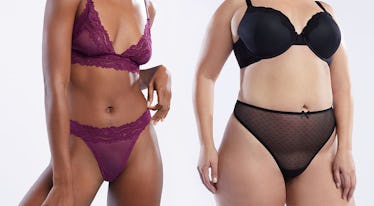 Savage x Fenty Is Giving Away Lingerie Sets Hand-Picked By Rihanna & Here's How You Can Snag One
Savage X Fenty
To be honest, I've never really forgiven Rihanna for not giving us a Christmas album — I can't properly enjoy the holidays without the non-existent recording of her singing "Santa Baby" that I just know would be sheer perfection. Nevertheless, Riri is giving us a little something special this holiday season, and while it's not Christmas music, the Savage x Fenty "12 Days of Savage" giveaways are almost, if not equally, as satisfying. If you're already a fan of Ri's lingerie line, get excited, and if you've yet to try it out, now's your chance, as you could be one of 12 daily winners to score yourself a chic set hand-picked by Rihanna herself. If that wasn't already at the top of your Christmas list, make room: here's how to get a Savage x Fenty "12 Days Of Savage" set.
Since the brand first launched, Savage X Fenty has been a breath of fresh air in the lingerie world, delivering sexy and sweet designs at reasonable pricepoints and promoting and embracing inclusivity — take note, other brands! — as far as models and sizing. Between Fenty Beauty and Savage X Fenty, Rihanna has truly proven herself as an incredible business woman, and a generous one at that, as she's taken to the latter brand's Instagram to announce the 12 Days of Savage giveaways.
Like hi, hello, thank you for being amazing and creating amazing lingerie and offering us amazing giveaways, we are so not worthy:
Occuring between December 1 and 12, the 12 Days of Savage will introduce 12 brand new lingerie sets, all of which were hand-picked by Ms. Robyn Rihanna Fenty herself, and one of which will drop every 24 hours. There will be limited quantities of each available at special prices, and so far, the drops have been straight fire. The Dotty Mesh Set ($34, savagex.com) is one of my favorites, featuring a babydoll and thong, and the Dotty Mesh Trio ($34, savagex.com) is a skimpier take featuring a bralette with two panty options, a thong and a bikini. I'm also tempted to snag the CLF Trio ($46, savagex.com) for all my friends, as profits from the lavender robe, cami, and panty will set go to Rihanna's nonprofit, the Clara Lionel Foundation, which helps impoverished communities worldwide.
Trying to be good and not buy gifts for yourself this year? Instead of purchasing one of the new sets during the drops, consider instead trying to win one of the 12 giveaways on the Savage X Fenty Instagram. All you have to do is follow the brand's page and complete the task in each giveaway post to be entered to win.
On Day 1, Riri asked us to tag a giving friend that deserved to win:
Day 2 was a little more wild: Ri asked us to share a pic of our Christmas tree adorned in Savage X Fenty undies! Or, to simply repost hers if your holiday decor was more traditional:
Seriously, Rihanna stays doing the most. It wasn't enough for her to just drop 12 gorgeous sets of lingerie, but to give us the chance to snag them for free? How dare she be so wonderful!
While I definitely don't have the coin to scoop up all 12 of the brand new sets, you can bet your bottom dollar that I'll be entering all 12 giveaways and hoping I get lucky just one time. Keep your fingers crossed for me, and check out the Savage X Fenty Instagram to enter to win a set for yourself, too.