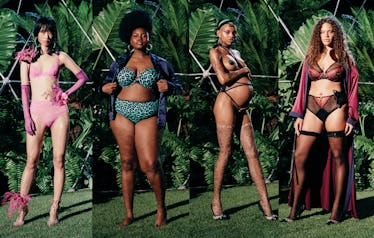 Rihanna's Savage x Fenty NYFW Show Redefined Inclusivity, Proving ALL Body Types Are Sexy AF
Vikram Valluri/BFA/Shutterstock
Hot take: While the recent move toward inclusivity in the fashion industry has been a necessary, positive step in the right direction, we'd be lying if we didn't admit this move isn't nearly finished. It's amazing to see notoriously size-restrictive brands extend their offerings to size 16 and 18 women and to walk women of those sizes and more women of color down the runway. But even so, that's not all women. Trans women, even more women of color, disabled women, pregnant women, queer women, women sizes 22, 24, 26, and beyond — all women traditionally underrepresented in fashion — deserve a place in this community. And in a truly remarkable celebration of real inclusivity, Rihanna's Savage x Fenty NYFW show did more than give all body types, skin tones, and identities a place in fashion. With the show, Rihanna so strongly asserted that all body types are and deserve to feel sexy.
Started in May 2018, Rihanna's lingerie line, Savage x Fenty, has gained incredible popularity since its very first launch of products, which promptly flew off the shelves. Not only did the line offer a wide range of different styles of underwear and lingerie, from typical lacy sets to comfier pajamas and robes, but the line also catered to a vast amount of sizes, from a 32A to a 44DD in bra sizes and XS to 3X in other sizes.
Whether you're someone who loves sexy, stringy lingerie or someone who just loves a good set of cozy pajamas, Rihanna assured that you could see yourself in her collection. And on Sep. 12, 2018, at the Savage x Fenty runway show during New York Fashion Week, Rihanna assured that you could see yourself on that runway, too. Considering most mainstream, high-fashion brands in general — lingerie brands even more — are still restrictive in terms of only showing a limited range of skin tones, sizes, and identities on their runways, Rihanna's move was certainly groundbreaking.
In a Brooklyn setting filled with thick foliage, greenhouse-like installations, what seemed like lightning, and with models ranging from the Hadid sisters and Joan Smalls to even more stunning models of all colors, sizes, and identities, the Savage x Fenty presentation ended NYFW in a way never done before — by celebrating the notion that, no matter who you are or what you look like, you deserve to feel every ounce as beautiful and as sexy as the person standing next to you.
As if the entire show wasn't already a powerful enough statement, Rihanna also featured two pregnant models in the show, absolutely abolishing any notion that pregnant bodies can't be sexy. One of the pregnant models is 22-year-old model Slick Woods. According to TMZ, just after walking the runway, Woods actually went into labor and was transported to a nearby hospital to give birth. I'm not saying Rihanna literally breathed new life into the fashion industry, but Rihanna literally breathed new life into the fashion industry.
Vikram Valluri/BFA/Shutterstock
Vikram Valluri/BFA/Shutterstock
Vikram Valluri/BFA/Shutterstock
Vikram Valluri/BFA/Shutterstock
Naturally, all models in the show also wore Fenty Beauty makeup as well. Fenty Beauty Global Makeup Artists Priscilla Ono and Hector Espinal led the team of oh-so-talented makeup artists to create some of the most colorful, engaging looks seen throughout NYFW. According to a press release, the beauty color palettes were inspired by stained glass and each look was meant to "focus on the colorful interpretation of emotions."
Super glossy and shimmery in finish, each look was executed with some of the following Fenty Beauty favorites: Diamond Bomb All-Over Diamond Veil ($38, fentybeauty.com), Gloss Bomb Universal Lip Luminizer in Diamond Milk ($18, fentybeauty.com), Killawatt Freestyle Highlighter Collection ($34-$36, fentybeauty.com), Match Stix Matte Skinstick ($25, fentybeauty.com), Match Stix Shimmer Skinstick in Chili Mango and Confetti ($25, fentybeauty.com), and Mattemoiselle Plush Matte Lipstick in Candy Venom & Ma'Damn ($18, fentybeauty.com).
Rodin Banica/WWD/Shutterstock
Rodin Banica/WWD/Shutterstock
Rodin Banica/WWD/Shutterstock
At the end of what was truly a groundbreaking show, Rihanna, in all her stunning glory, graced the stage in a form-fitting brown dress and a smile brighter than every star in the sky. She knew what she did. And it was good.
At a pivotal point in fashion where industry standards are continuing to experience pushback from those it caters to, leave it to Rihanna to not only push back, but to push right through the boundaries holding women back.
Now, just as the models in the Savage x Fenty show were able to embrace and showcase their beauty and sexiness, you can, too, now that the entire collection is available at savagex.com. Just as Rihanna would want, go forth and own your beauty — all of it.