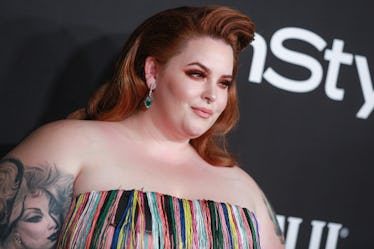 Tess Holliday Called Out The Victoria's Secret Fashion Show On Insta In The Best Way Ever
Rich Fury/Getty Images Entertainment/Getty Images
The annual Victoria's Secret Fashion Show will air on Sunday, Dec. 2, 2018 on ABC, but it looks like Tess Holliday won't be tuning in. The lingerie brand's holiday special typically attracts millions of viewers each year, though fans and critics alike often acknowledge the show's lack of inclusivity on the runway. Despite this, however, the brand's chief marketing officer, Ed Razek, recently told Vogue that the Victoria's Secret Fashion Show is sticking to its status quo: modeling one physique, and one physique only on the runway. In response to some of Razek's controversial comments, fashion model Tess Holliday called out the Victoria's Secret Fashion Show on Instagram, clapping back at the brand's decision not to have transgender or curvy models walk the runway show with a powerful photo showing off her own shapely figure in a pair of ASOS lingerie.
In case you aren't up to speed, Razek and VS' executive vice president of public relations, Monica Mitro, recently sat down with Vogue's director of runway, Nicole Phelps, to discuss the upcoming fashion show, and what changes, if any, fans can expect to see this year. Phelps was quick to bring up social media during the interview, specifically the question of whether or not Victoria's Secret has taken notice of what "the Instagram generation" seems to expect from the brand, or the changes they're looking for VS to make when it comes to recruiting its angels. In his response, Razek brought up the criticisms and "hate" that both the brand, and the models, receive on a regular basis, but in the midst of a tangent detailing the array of negative comments, he touched upon inclusivity and made a few very controversial statements about diversity — or, I should say, lack thereof — and how it's represented on the VS runway.
In terms of the sizes VS offers, Razek and Mitro both noted to Vogue that the brand does think about inclusivity and diversity, and offers sizes ranging from 30A up to a 40DDD. Still, Razek told the magazine that critics demand sizes 50, 60, and, on the opposite side of the spectrum, even a 24. As for the annual fashion show, however, Razek made it very clear that even though VS offers bigger sizes, they don't seem to be looking to model them on a televised runway. He told Vogue,
We invented the plus-size model show in what was our sister division, Lane Bryant. Lane Bryant still sells plus-size lingerie, but it sells a specific range, just like every specialty retailer in the world sells a range of clothing. As do we. We market to who we sell to, and we don't market to the whole world... We attempted to do a television special for plus-sizes [in 2000]. No one had any interest in it, still don't.
As for whether or not the brand has thought about featuring transgender models in the annual fashion show, Razek told Vogue that VS has considered the idea, but it's just not happening this year. He explained,
It's like, why doesn't your show do this? Shouldn't you have transsexuals in the show? No. No, I don't think we should. Well, why not? Because the show is a fantasy. It's a 42-minute entertainment special.
So you can see where these types of comments could strike a sensitive chord, right? That's why Tess Holliday took to Instagram to address the issue. In her post, the 33-year-old model called out Victoria's Secret for its lack of support toward curvy models, and included a quote she'd given to Teen Vogue on the importance of supporting brands that do strive to include all shapes, sizes, and identities.
"Who needs VS anyway?!" Holliday captioned her black and white photo. "They never supported plus ladies & now they are trying to dis my trans sisters? Hell nah. Kiss my fat ass."
Holliday added in her Instagram post that, even though her hope is that one day, Victoria's Secret will embrace people of all body types and identities, for now, the best thing anyone can do for this cause is to support brands that do prioritize inclusivity and diversity. "It's important to be vocal about the brands you do like and what they're doing right because that's who should get our money," she wrote, because progressive brands are the ones that "actually care about marginalized groups."
Unsurprisingly, Holliday wasn't the only one who spoke out about the Victoria's Secret Fashion Show's lack of diversity and Razek's comments to Vogue. Celebrities like Rihanna and Kendall Jenner seem to have reacted to the controversial statements in their own subtle ways on social media, according to PEOPLE.
On Nov. 9, Razek issued an apology over Twitter. The statement said,
My remark regarding the inclusion of transgender models in the Victoria's Secret Fashion Show came across as insensitive. I apologize. To be clear, we absolutely would cast a transgender model for the show. We've had transgender models come to castings... And like many others, they didn't make it...But it was never about gender. I admire and respect their journey to embrace who they really are.
Only time will tell whether critics have truly gotten through to Razek and the rest of the VS team. You and I will just have to wait until next year to see whether or not the annual Victoria's Secret Fashion Show will include a diverse group of angels getting their wings.