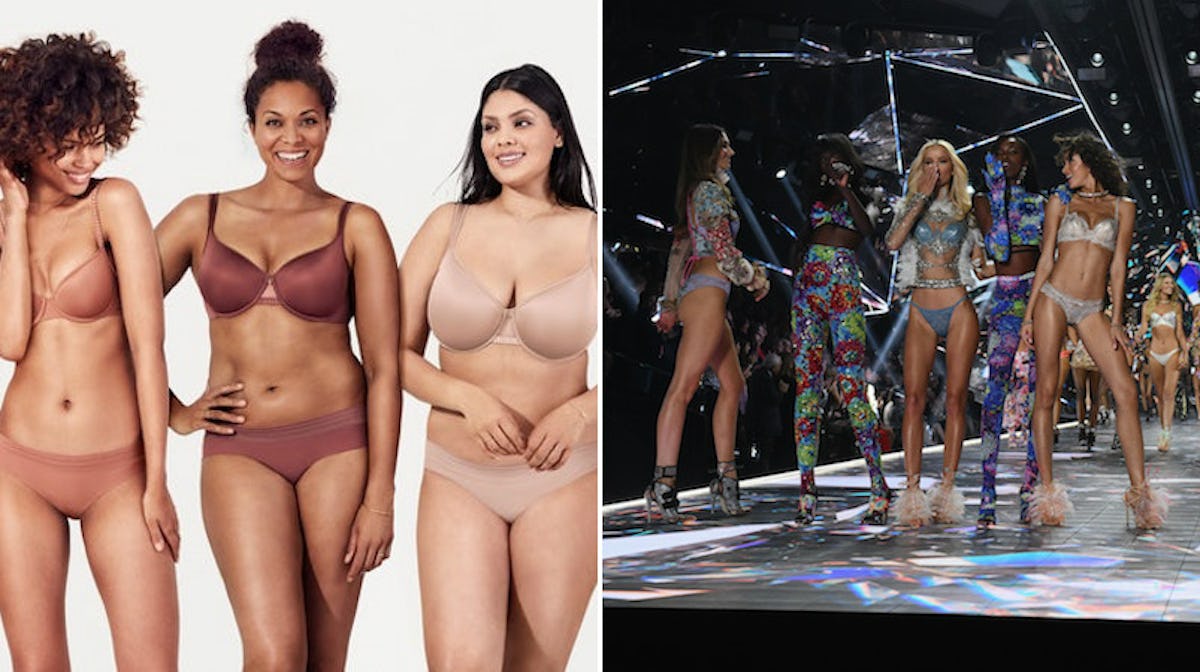 ThirdLove's CEO Wrote A Powerful Open Letter To Victoria's Secret About Inclusivity
On Sunday, Dec. 2, 2018, the Victoria's Secret angels will strut down a majestic catwalk in nothing but glitter-emblazoned bras and enormous, fantastical wings trailing behind their backs. The annual fashion show is arguably one of the most controversial events to date, and recent comments from the lingerie company's chief marketing officer, Ed Razek, during an interview with Vogue about the models that Victoria's Secret looks for to represent the brand, have stirred up a lot of ill feelings. The most recent backlash comes from ThirdLove's co-CEO, Heidi Zak, who wrote an open letter to Victoria's Secret about inclusivity — or, I should say, the brand's lack-thereof — for The New York Times.
But before I dive into the heartfelt letter that Zak penned for Victoria's Secret, let's backtrack for a sec. Just in case you've somehow missed all the commotion, Razek and VS' executive vice president of public relations, Monica Mitro, recently sat down with Vogue to chat about the upcoming fashion show, and what viewers can expect to see on the runway this year. Without the slightest bit of hesitation, Vogue's director of runway, Nicole Phelps, was quick to ask whether or not Victoria's Secret had taken into consideration what "the Instagram generation" wants and expects from the brand when it comes to recruiting its angels. In his response, Razek explained that while VS does make an effort to be inclusive in the sizes it offers, the brand isn't looking to televise women actually wearing those sizes at this time.
The conversation took a turn for the controversial when Phelps asked Razek and Mitro about whether or not VS feels the need to shift its image in a more progressive direction, similar to how Rihanna's Savage x Fenty NYFW runway show featured women of all shapes, sizes, sexual orientations, and gender identities back in September. "If you're asking if we've considered putting a transgender model in the show or looked at putting a plus-size model in the show, we have," Razek told Vogue. Still, as for the annual VS fashion show, Razek made it very clear that viewers won't be seeing bigger sizes on the runway this year. He told Vogue,
We invented the plus-size model show in what was our sister division, Lane Bryant. Lane Bryant still sells plus-size lingerie, but it sells a specific range, just like every specialty retailer in the world sells a range of clothing. As do we. We market to who we sell to, and we don't market to the whole world... We attempted to do a television special for plus-sizes [in 2000]. No one had any interest in it, still don't.
In terms of whether or not the brand has considered featuring transgender models in the annual fashion show, Razek told Vogue it's just not happening this year. He explained,
It's like, why doesn't your show do this? Shouldn't you have transsexuals in the show? No. No, I don't think we should. Well, why not? Because the show is a fantasy. It's a 42-minute entertainment special.
To say that these types of comments from Razek are distasteful would be an understatement at best, so you can probably understand why Zak, the co-founder of ThirdLove — an inclusive bra, underwear, and loungewear brand — would feel so compelled to not only respond over social media, but to pen a letter that would ultimately be printed as a full-page ad in the Sunday, Nov. 18, 2018 edition of The New York Times. In the piece, Zak addressed Victoria's Secret directly, asking how, in this day and age, a CMO of any company, let alone one that is supposedly "for women," could make such statements. "Haven't we moved beyond outdated ideas of femininity and gender roles?" she wrote. She continued,
We're done with pretending certain sizes don't exist or aren't important enough to serve. And please stop insisting that inclusivity is a trend… We believe the future is building a brand for every woman, regardless of her shape, size, age, ethnicity, gender identity, or sexual orientation. This shouldn't be seen as groundbreaking, it should be the norm.
Although Zak addressed her letter to Victoria's Secret directly, she was also speaking to a much larger, more general audience: women. "Let's listen to women. Let's respect their intelligence. Let's exceed their expectations. Let women define themselves," Zak wrote in her conclusion.
In order to overcome the often unrealistic body standards set forth by companies like Victoria's Secret, Zak said the solution is to support the brands that, in turn, support us as women — like ThirdLove. "To all women everywhere, we see you, and we hear you," Zak wrote. "Your reality is enough. To each, her own."
Following Razek's comments, Zak wasn't the only one who took to social media to speak out about the Victoria's Secret Fashion Show's lack of diversity and the CMO's eyebrow-raising interview with Vogue. Celebrities like Tess Holliday, Rihanna, and even Kendall Jenner have all reacted to the controversial statements in their own subtle ways on social media, according to PEOPLE.
In response to the backlash, on Nov. 9, Razek issued an apology over Twitter. The statement said,
My remark regarding the inclusion of transgender models in the Victoria's Secret Fashion Show came across as insensitive. I apologize. To be clear, we absolutely would cast a transgender model for the show. We've had transgender models come to castings... And like many others, they didn't make it...But it was never about gender. I admire and respect their journey to embrace who they really are.
The time for change is now, but unfortunately it looks like you and I will have to wait until next year's annual VS fashion show to know for sure whether or not the responses to and critiques of Razek and VS alike will make an impact on the brand's direction for 2019.