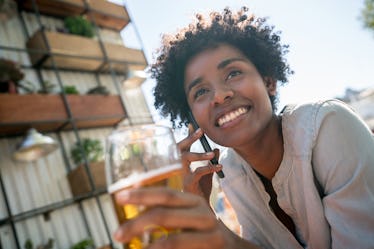 Here's How To Create An Oktoberfest Experience In Your Own Backyard "Pub"
andresr/E+/Getty Images
Your backyard has turned into a pub of sorts this summer, because it's the spot where you mix up mocktails and sip crisp ales in the sunshine. As fall approaches, though, you want to pumpkin spice things up and learn the ins and outs of how to create an Oktoberfest experience in your backyard. It may not be exactly like the real thing that takes place in Munich, Germany, but you know it'll be Insta-worthy and a reason to celebrate in traditional Dirndls and Lederhosen.
Thanks to your semester abroad or the pictures you saw of your friends attending the event in Germany when they were abroad, you may have a few ideas for this at-home event already. You may have saved a delicious pretzel recipe or two to make the night before. You might've also called your brother and asked if you could borrow his beer boot that he won at an Oktoberfest event at a local brewery last fall. Those details will help your backyard version feel like the real deal, but we've rounded up the items you may need to buy to complete the entire experience.
Games, music, and funky drinkware — we've covered it all so you don't miss a beat this fall. Send invites to your friends so they can attend virtually from the comfort of their own homes, and charge your camera so you can snap pics of your whole setup. After checking those boxes off your to-do list, pour a drink and get ready to enjoy these items and ideas.