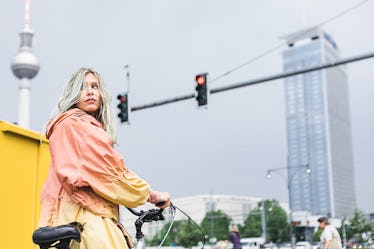 I Went On A 10-Day Euro Trip & Unexpectedly Fell In Love With This City
Before I studied abroad, I had a pretty lengthy bucket list written down in my phone. It mapped out the dreamy destinations in Europe I wanted to go to within the next four or five months, and the things I wanted to do there. So when my best friend and I booked a 10-day-long trip for fall break, I was extremely excited to check some of those items off. What I didn't know is that I'd discover things to do in Berlin, Germany that would make me completely fall in love with this amazing city.
I had zero clue that this modern, yet historical, place would hold such a special place in my heart. I had no idea that on a very chilly afternoon in the middle of October — after doing tons of sight-seeing — I would walk into a local coffee shop, order a gigantic cup of apple and cinnamon-flavored tea, and watch locals and backpackers walk down the sidewalks.
But I'm happy that it all happened so unexpectedly and serendipitously; I think that added to the charm. I think that was when I began having thoughts like, "I could stay here a while," and, "What's that museum all about?" it made my wanderlust grow and my adventurous soul feel like a million bucks. If you're planning on heading to this city, then consider doing these five things so you totally fall in love with it as well.