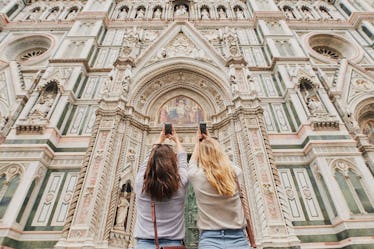 I Lived In Florence For 5 Months & Quickly Learned How To Feel Like A Local
Here's the deal: You're about to study abroad and might be feeling both excited and nervous. Maybe it's your first time out of the country or navigating an airport on your own, or you don't know the language very well yet. Don't worry, because I've been there and know all the pieces of the puzzle will fall into place. Aside from not eating at the restaurants that are total tourist traps, I have a ton of tips for you on how to explore Florence like a local. Take them to heart and this Italian city will quickly feel like home.
You'll be walking around your new city with total confidence, and ordering your espresso in the morning like pro. You'll be casually talking to your classmates while you walk past famous statues in the squares and go to your art history classes at otherworldly museums. Oh, and big spoiler alert: When another traveler asks you for directions to a certain sight or landmark, you'll even be able to tell them where to go.
In that moment, you'll realize the city that was once so new to you is now "home" and a place where you feel comfortable. So, how exactly do you get to that moment? Well, you follow these seven tips I have for exploring Florence and becoming one of the locals, fast.