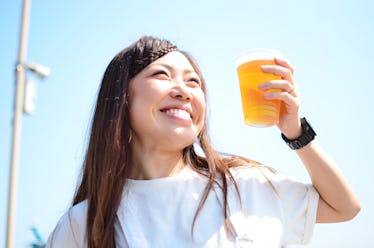 31 Hoppy Captions For Brewery Pics That Perfectly Say, "Wish You Were Beer"
Toshiki Chiba / EyeEm/EyeEm/Getty Images
You and your friends are always looking for something exciting to do. Next up on your to-do list — if you're 21 and up — is to check out a brewery, so you'll need some Instagram captions for brewery pictures you want to post. If you're a big beer fan, visiting a brewery is a great chance to try different ales, and possibly find your new favorite. And if you're a newbie who's looking to expand your craft beer knowledge, a brewery is the perfect opportunity to do just that while also capturing some cute selfies along the way that'll update your Insta with something brewtiful.
The next time you're venturing out on a road trip, consider stopping at a local brewery to learn more about the place you're visiting. You'll discover the history and different ingredients that are native to that area. For instance, the Kona Brewing Co. incorporates a lot of tropical flavors in their ales and lagers, and Alaskan Brewing Co.'s signature Amber Ale is made via a slow fermentation process.
However, you don't need to travel in order to have an epic brewery experience. You can take a virtual tour at home in your own backyard. Some breweries, such as Abita Brewery in Covington, LA, have self-guided tours on YouTube. Order a few beers online in advance, and make yourself your very own flight with a personalized charcuterie board. Transform your backyard into a brewery with some oak barrels and string lights for a picture-perfect backdrop.
Capture some sippin' selfies as you try the different beers, or a celebratory snap when you've found the one for you. You might even want to snap a well-posed beer flight and cheese board snap for your foodie friends to admire. Post your favorite snaps with any of these 31 brewery Instagram captions, because it's true what they say: "Take a pitcher, it'll last longer."
1. "Wish you were beer."
2. "Our friendship is more like a sisterhood at this pint."
3. "Each new ale I try is un-beer-lievable."
4. "This is what I mean when I say I'm a crafty person."
5. "Life is too short to drink bad beer."
6. "Beauty is in the eye of the beer holder." — Kinky Friedman
7. "I'm in my hoppy place right now."
8. "Love is ale we need."
9. "Don't stop, beer-lievin'."
10. "Nothing compares to brew."
11. "That makes you lager than life."
12. "Don't think of it like a beer. Think of it like a wheat smoothie."
13. "Without you, life would be unBEERable."
14. "Everything just tastes better when we're together."
15. "Ale hello there, beer."
16. "Feelin' hoppy about this situation."
17. "I knew you could brew it."
18. "I want someone to look at me the way I look at this flight of beer."
19. "They said, 'Take a pitcher, it'll last longer,' so we did."
20. "A pitcher-perfect moment."
21. "Chill for best results."
22. "I must be having deja brew."
23. "To beer, or not to beer. That is the question."
24. "I'm just here for the pretzels."
25. "Hello? Is it beer you're looking for?"
26. "Beer is made from hops. Hops are plants. Therefore, beer is a salad."
27. "Love brew very much, beer."
28. "Hey there hops stuff."
29. "Thank brew very much for being you."
30. "You better beer-lieve we went to a brewery."
31."Felt crafty, might delete later."
This article was originally published on