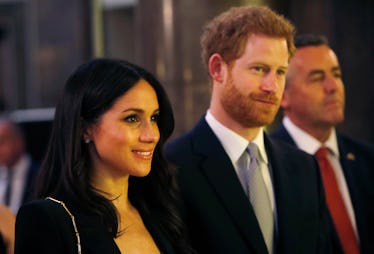 Here's How Much It Would Cost You To Fly To London For The Royal Wedding & OMG
WPA Pool/Getty Images Entertainment/Getty Images
Let's be honest, weddings can be pricy affairs. Sure, you might not be able to put a price on happiness, but you definitely can put a price tag on attending one of the world's most anticipated ceremonies. So, how much does it cost to attend the royal wedding? This amount might cure that lingering FOMO.
From flight expenses to outfit decisions, a royal wedding is an event that takes time to prepare for. We might not ever know exactly how much it costs to sit amongst royalty, but judging from the guest list for Prince Harry and Meghan Markle's upcoming nuptials, it involves an A-lister price tag. Here's a rundown on what guests of the royal wedding might expect to spend, and on what.
According to Google Flights, a roundtrip to London, U.K. from New York City on May 18 until May 20 costs just over $1,000 (if you decide to scrimp and fly economy). Of course, that'll mean you'll have to travel to Windsor for the actual event, and lodging will cost you roughly $800 a night for a four-star hotel in Windsor, U.K. So make sure you have nearly three grand saved up for transportation and lodging alone.
However, if you're going to attend the royal wedding, you've got to dress to impress. Just take Princess Beatrice's outfit for Prince William and Kate Middleton's wedding as an example. While attending their wedding, Princess Beatrice wore a rose-colored Valentino coat along with a (famously) elaborate Phillip Treacy hat as the perfect accessory. An average coat from designer Valentino costs nearly $4,000 and a hat from famous headwear designer Phillip Treacy will run you about $3,000. So, be ready to break your budget on designer gowns and ensembles, but hey, at least you'll look fabulous.
Finally, you wouldn't want to show up to the royal wedding without a gift. You might think your presence is enough of a prize, but think again. What do you get the couple that could have anything they want? For their wedding, William and Kate received a multitude of surprises including a cocker spaniel puppy, Robinson Pelham diamond earrings, and a tandem bicycle. So let's suppose you want to opt for a more traditional route and gift Markle some diamonds, a pair of Diamond Palette Earrings from Robinson Pelham costs $8,994. Let's just hope she doesn't lose them.
So there you have it. All in all, attending the royal wedding as a guest might cost you up to $20,000. Ouch.
One thing is for sure, the price of the royal wedding itself is pretty outrageous. According to U.K. wedding experts Bridebook, Meghan Markle and Prince Harry's wedding is estimated to cost $2,758,019 in American dollars. Yes, you read that correctly. Almost $3 million — and that doesn't even factor in the estimated more than $40 million USD cost of security. It might not quite compare to William and Kate's $34 million wedding, but it's still sure to be a fabulous day.
Since Prince Harry and Meghan Markle announced their engagement in November 2017, we've all been eagerly awaiting May 19, the day these two lovebirds will finally get hitched. On Nov. 28, 2017 Kensington Palace announced Markle and Prince Harry's nuptials via Twitter, along with when everyone can expect the pair to say "I do."
The tweet read,
The marriage of His Royal Highness Prince Henry Of Wales and Ms. Meghan Markle will take place at St. George's Chapel, Windsor Castle in May, 2018. Her Majesty The Queen has granted permission for the wedding to take place at the Chapel. The Royal Family will pay for the wedding. Further details about the wedding will be announced in due course.
Over the past few months, the royal family has been teasing fans with small glimpses of Markle's wedding dress, the invitations, the flower arrangements. However, it's the guest list that had everyone questioning who exactly would be attending this very special day. Markle and Prince Harry's wedding will be much smaller than William and Kate's, but the guest list is still full of A-listers. According to Time, only 600 people have been invited to attend the official ceremony in St. George's Cathedral and reception in St. George's Hall. Among them includes celebrities such as Priyanka Chopra and the Spice Girls, as well as royal family members including Prince Charles, Queen Elizabeth, Prince Phillip, and others. Although this is an impressive list, there's a few names missing that raised some eyebrows. According to Royal Correspondent of The Daily Mail, Rebecca English, the royal family decided not to invite any political leaders from the U.K. and abroad.
May 19 is approaching faster than expected, and I'm so pumped for the event. I don't know about y'all, but the anticipation is absolutely killing me right now. Not only will it be a magical day of love, but we'll get to witness firsthand how Markle is taking royal tradition into her own hands. I truly can't get enough of it.
If you're like me, it was a bit of a bummer to find out you didn't score an invitation to one of the world's most exciting weddings. However, I have a feeling our bank accounts will thank us later.