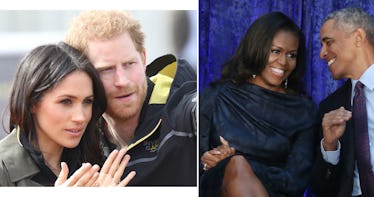 The Drama Over The Obamas Attending The Royal Wedding Just Took A Turn & It's A Shock
Chris Jackson/Getty Images Entertainment/Getty Images // Mark Wilson/Getty Images News/Getty Images
On Tuesday, April 10, updates about the royal wedding indicate that it will be an apolitical affair, as royal sources confirmed that no political leaders would be invited to the much-anticipated spring nuptials this year. So whether the Obamas will be at Meghan Markle and Prince Harry's wedding remains unanswered. President Barack Obama is a personal friend of Prince Harry, so his absence from the occasion would be notable.
"It has been decided that an official list of political leaders — both U.K. and international — is not required for Prince Harry and Ms. Markle's wedding," a Kensington Palace spokesperson told The Daily Mail. "Her Majesty's Government was consulted on this decision, which was taken by the royal household." This exclusion would assumedly apply not only to the Obamas, but to President Donald Trump and British Prime Minister Theresa May.
Because the wedding is not a state affair, the royal couple is not obligated to extend the invitation to any world leaders or diplomatic guests. Still, the invite list has proven to cause some drama. Elite Daily reached out to Obama's office for comment on the couple's attendance at the wedding, but did not hear back at time of publication.
Multiple outlets are reporting that the Obamas won't be at the May 19 wedding. The Daily Mail's Rebecca English reiterated in a tweet: "President Obama & his wife, Michelle, will NOT be guests at Prince Harry & Meghan Markle's wedding next month."
A royal source told CNN that the Obamas would not be in attendance, but wouldn't confirm if they had been invited. They added that Markle and Prince Harry planned to visit the Obamas soon. ABC's Meredith McGraw was told the same, per a tweet. However, CNN also reports that it's possible some world leaders may be invited to the wedding given personal relationships with the couple. It remains unclear whether the Obamas were, in fact, invited.
Concerns about a diplomatic guest list surfaced in the news cycle back in December, centered around whether the former U.S. president would be invited. Royal officials expressed concerns that inviting Obama but not Trump could cause the sitting president to take offense. Prince Harry had made it clear that he wanted his pal Obama in attendance, but as one official put it, "Trump could react very badly if the Obamas get to a Royal wedding before he has had a chance to meet the Queen."
The guest list in full doesn't appear to be public knowledge yet, but not having international political leaders wouldn't be unique to this occasion. At the wedding of Kate Middleton and Prince William in 2011, neither the Obamas nor the French president and his wife at the time were on the guest list. So excluding foreign leaders from the big day isn't a huge surprise. But Obama isn't just a political figure — he's also got a personal bond with Prince Harry, and the couples have become friends.
President Barack Obama and Prince Harry have spent time together on multiple occasions since the Invictus Games in October 2017. When the couple announced their engagement, Obama was quick to wish them a happy marriage.
As Cosmopolitan theorizes, it's possible that, given the friendship between Obama and Prince Harry, the no-politicians-allowed rule would be an easy workaround to have Obama at the wedding without offending any other officeholders. So there's an outside chance that, despite the update about world leaders, Obama may still be there.
While the prince and former POTUS are chums, it's been reported that Harry isn't the biggest fan of Trump. Though Kensington Palace denied the claim, Us Weekly reported that Prince Harry called Trump a "serious threat to human rights" and has largely been critical of him, as has Markle, who has called the president misogynistic.
Markle, an American actress, and Prince Harry met in summer 2016 and began dating shortly thereafter. Their spring wedding will take place at St. George's Chapel in Windsor Castle.
The wedding is still more than a month away, so who knows what the final outcome will entail.