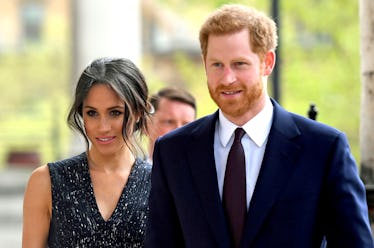 Here's Where Prince Harry & Meghan Markle Will Live After Their Wedding & It's Gorgeous
Happy royal wedding month! Prince Harry and Meghan Markle are just over two weeks away from getting married. It honestly feels like time has flown by since their engagement was announced in November of 2017, but here we are, just 17 days away from an American celebrity becoming British royalty. What a time. Life goes on after the wedding though, so some of you may be wondering where Prince Harry and Meghan Markle will live once they've gotten hitched. Well, according to reports, Queen Elizabeth is planning on gifting her grandson and Markle York Cottage.
Meghan and Harry currently live in Nottingham Cottage on the grounds of Kensington Palace in London. York Cottage is in the English countryside, so this home will serve as a private getaway for the couple — something I'm sure they'll be eager to take advantage of after a whirlwind of months being smack dab in the spotlight. The cottage is on the grounds of the Sandringham Estate — a location Queen Elizabeth reportedly has adored over the years. York Cottage ironically used to be referred to as the Bachelor's Cottage, according to Metro, but not anymore! It's not clear if Harry and Meghan will move into the cottage right away after their wedding, but should they choose to live there full-time, that option will be available.
Here's a look at York Cottage.
Metro notes that the cottage is meant to look like "three Merrie England pubs joined together." I lived in London for half a year and this house doesn't look anything like a pub to me, but OK!
This reported gift from the queen does go against the couple's request that people donate to their charities of choice in lieu of gifts, but she's the queen of England. She going to do whatever she wants.
Prince William and Kate Middleton were also gifted a house on the Sandringham Estate when they got married in 2011. Queen Elizabeth gave them Amner Hall, which is slightly larger than York Cottage but is located on the same grounds. Just about every child/grandchild of the queen has been given a house as a wedding gift, so Harry and Meghan probably saw this one coming despite their request for no gifts.
Back in April, an announcement on the royal family's website stated that the couple is "incredibly grateful" for the influx of support of their engagement and upcoming wedding, but they would rather that love be shown in the form of charitable donations to causes close to their hearts. "Prince Harry and Ms. Meghan Markle are incredibly grateful for the goodwill shown to them since the announcement of their engagement and are keen that as many people as possible benefit from this generosity of spirit," the statement read. "The couple have therefore asked that anyone who might wish to mark the occasion considers making a donation to charity, rather than sending a wedding gift."
The site then lists seven charities people could donate to: CHIVA (Children's HIV Association), Crisis (a national charity aiming to aid the homeless), the Myna Mahila Foundation, Scotty's Little Soldiers, StreetGames, Surfers Against Sewage, and The Wilderness Foundation UK. That's quite the list, but I'm sure the couple would love for a donation to any charity be made in their honor as a wedding gift, not just the ones they listed.
Prince Harry and Meghan Markle will be getting married on Saturday, May 19, at St. George's Chapel at Windsor Castle. The wedding will start around 7 a.m. ET, so if you don't want to miss a minute of this royal event, make sure you get plenty of sleep the night before and set, like, a billion alarms so you're awake and alert in time to see an American become English royalty.