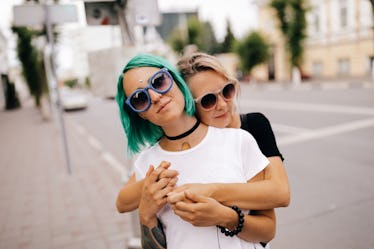 5 Women Reveal How They Set Emotional Boundaries When Dating & I'm In Awe
In talking about healthy relationships, one word that comes up again and again is boundaries. And it may seem counterintuitive, too: After all, isn't the goal to become closer to the one you love, not distance yourself from them? So how do you set emotional boundaries when dating without putting walls up? The truth is, boundaries can be what ultimately strengthens your bond by bolstering your sense of self. When you set them, you make your needs, wants, and feelings known to your significant other, and in the process, set the precedent for how you'd like to be treated while also protecting yourself from emotional harm.
You may know what physical boundaries look like — they involve your sense of personal space, privacy, and what you do with your body. Emotional boundaries, on the other hand, which are equally important, involve preserving your identity and self-esteem by separating your feelings from your partner's.
But defining boundaries isn't always easy. When another person's feelings are involved, we may get caught up in worrying about the consequences of our boundary setting. Will they be mad if I don't want to talk about that? Will they still love me if I say no to doing that? Still, while we may struggle to set emotional boundaries at times, they are so crucial to ensuring that we aren't compromising our own happiness to make our partners happy.
Need a little inspiration? Here are some tips from five women who have made an active effort to set healthy emotional boundaries.