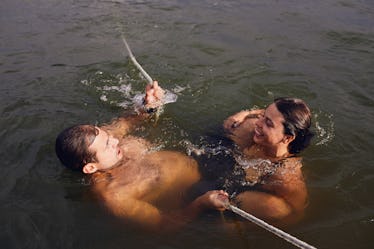 8 Women Reveal How They Set Boundaries In New Relationships, Because It Isn't Always Easy
If you've ever watched a Brené Brown video, you may already know how to set boundaries in new relationships. If you haven't seen the Texas queen take the stage, please stop everything you're doing and prepare to have your mind blown. I promise you'll thank me later. From, "Don't touch my butt during sex" to "No bringing up my mother when we're fighting," relationship boundaries can look like hard rules, soft guidelines, or anything in between. And while boundaries can ensure comfort and well-being, they can be hard to establish, especially when someone new comes into play.
If the chemistry is hot and the dates are fun, it can sometimes feel a bit formal or "not chill" to also establish some healthy structure with a new boo. It's true, setting boundaries in a new relationship isn't always easy. Yet, setting healthy boundaries in a relationship is exactly that — healthy. And while prioritizing each other's comfort and well-being may take some big adult conversations, having boundaries ultimately can make for hotter sex and more enjoyable dates.
I asked eight women how they set healthy boundaries in new relationships and what they say is sage, strong, and totally helpful.