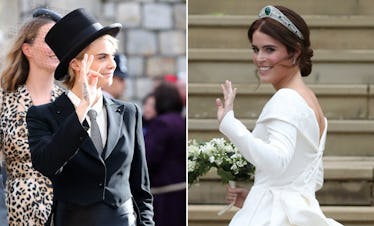 Here's How Princess Eugenie & Cara Delevingne Know Each Other, If You Were Wondering
WPA Pool/Getty Images Entertainment/Getty Images
While all eyes were on Princess Eugenie during her stunning wedding day, there was one familiar celebrity face in the crowd that caught viewers' attention. Supermodel Cara Delevingne made the guest list, y'all. Now, folks are wondering — how do Princess Eugenie and Cara Delevingne know each other? Believe it or not, they're friends! For real, for real.
According to People magazine, Delevingne and Eugenie have been friendly since 2015, possibly even before that. That year, they were photographed walking with their arms linked during London Fashion Week like two old friends. It was also reported Delevingne, then 23, was invited to Princess Eugenie's 25th birthday party earlier that year. Clearly, they've stayed in touch, because Delevingne strolled into Princess Eugenie's wedding like she owned the place. Truly.
Delevingne's wedding outfit was Boss with a capital B. She showed up in a tuxedo pantsuit, a large top hat, a tie, and what appears to be a straight-up toothpick hanging out of her mouth. (It could also be a lollipop, which I think I love even more.) Delevingne walked into the chapel next to journalist Derek Blasberg, and managed to *find her light* as a true professional would. Please look at her serving face, fashion, and friendship.
Delevingne is one of the many celebrities who is close with Princess Eugenie. Other wedding guests worth noting include Naomi Campbell, Ellie Goulding, Liv Tyler, and Prince Harry's ex-girlfriends, Cressida Bonas and Chelsy Davy. Some people were keeping an eye out for model Karlie Kloss, too, who is extremely close with Princess Eugenie's sister, Princess Beatrice. However, there are no reports confirming if she was or was not in attendance just yet.
While it was hard to take my eyes off of Delevingne's top hat, Princess Eugenie truly glowed in her gorgeous wedding gown designed by Peter Pilotto and Christopher De Vos. According to People magazine, the designer is known for "innovative textile design, paired with a modern, feminine silhouette." In just one glance at Princess Eugenie's dress, it's clear that checks out.
Princess Eugenie's gown featured a criss-cross open back, impressive train, and fabric detailed with symbols that are meaningful to her and Jack. Per People magazine, the design included "a Thistle for Scotland acknowledging the couple's fondness for Balmoral; a Shamrock for Ireland as a reflection of the bride's maternal family; the York Rose; and ivy representing the couple's home."
She also wore a stunning tiara called the Greville Emerald Kokoshnik Tiara lent to her by Queen Elizabeth for the big day. It is made of diamonds, platinum, and six emeralds including one giant bauble right in the middle. The tiara also matched her diamond and emerald drop earrings that were reportedly given to her as a wedding gift from her new husband.
Of course, even with a gorgeous bride and a handful of model guests, there is one other person who really stood out, and that is Princess Eugenie's mother, Sarah Ferguson.
Fergie rocked a seemingly Harry Potter-inspired hat and shut everyone else and their fashion choices down.
Sorry, Cara. This princess got it from her mama.