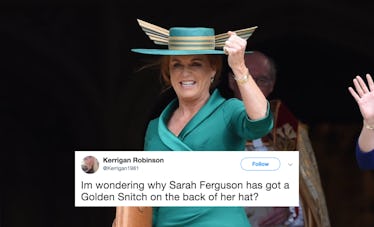 Everyone's Making The Same 'Harry Potter' Joke About Princess Eugenie's Mom's Wedding Hat
WPA Pool/Getty Images Entertainment/Getty Images
You guys, Sarah Ferguson knows her hat looks like a golden snitch from Harry Potter at her daughter Princess Eugenie's wedding, right? I mean, she is British. There's no way she didn't wear her green dress and matching snitch hat as tribute to Gryffindor, right? I'm not here to knock it. I'm here to love it. These tweets about Sarah Ferguson's hat at Princess Eugenie's wedding are all making the same "joke," but I think the better phrase is "same awesome observation."
On Friday, Oct. 12, Princess Eugenie married her long-term boyfriend Jack Brooksbank in the second royal wedding of 2018. Just like royal fans tuned in for the wedding between Prince Harry and Meghan Markle, the Duke and Duchess of Sussex, folks popped in to see Princess Eugenie say "I do," too. I don't want to say Eugenie's mother lovingly referred to as "Fergie" stole the show, but I will imply it strongly on the internet.
Fergie chose a striking emerald green dress that matched her daughter's bridal tiara. She topped the whole look off with a matching wide-brimmed hat decorated with gold, stiff wings. (Literally. There is no way around it. The hat has wings.) Even people who don't know one damn thing about the UK or royal culture have surely heard about Harry Potter, and the comparison between Fergie's look and the famous fictional golden snitch is too glaring to pass up.
Take a look. You guys tell me.
Let's break this down.
To be clear: royal wedding fashion protocol is intense. Town And Country magazine details some of the rules guests have to follow, and Fergie only had so much to work with, folks. Some of the fashion rules include covered shoulders, conservative hemlines, closed-toe shoes, no sky-high heels, no white, and hats are encouraged.
Based on what's listed here, Fergie knocked it out of the park. It's clear to me, as a total non-royal expert, that the hat thing is really everyone's chance to shine and infuse their personality into their look. Something about Sarah Ferguson's hat is both playful and commanding. The colors keep it fun but the style says, "I'm the mother of the bride and I deserve respect."
For comparison, Kate Middleton went with a decorative small burgundy fascinator and Meghan Markle opted for a navy feather cap.
Both the Duchess of Sussex and Duchess of Cambridge kept their colors season appropriate, whereas Eugenie's sister, Princess Beatrice, came in with a bang.
Beatrice, like her mom, chose to stand out. She went with a true violet-colored dress and matching wide headband. For fun, here's a picture of Beatrice and Fergie walking into the chapel together.
And, here's a good shot of their headpieces:
While everyone's eyes couldn't help but float to Fergie and her cap, Princess Eugenie looked gorgeous walking down the aisle. In contrast to her family's striking hats, Eugenie went with a tiara only. No veil.
You know what they say: To each their own hat. 10 points to Gryffindor!