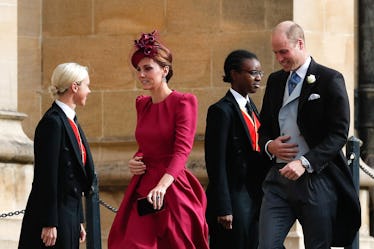 Kate Middleton Looks So Elegant In These Photos From Princess Eugenie's Wedding
WPA Pool/Getty Images Entertainment/Getty Images
Hear ye, hear ye! Another royal family member is wed! Princess Eugenie tied the knot with her new husband Jack Brooksbank on Oct. 12, 2018 and the world is celebrating. While fans are eating up all of the details surrounding Eugenie's big day, one person in particular has caught some eyes. OG princess of our generation, Kate Middleton, was in attendance and all eyes were on her outfit. This woman's class knows no ends. Photos of Kate Middleton's dress at Princess Eugenie's wedding are so pretty and my new favorite "Kate."
I know what you're thinking, and yes, this has been a massive year for the royal family. It all kicked off in November 2017 when Prince Harry, Duke of Sussex, announced his then-engagement to Meghan Markle, Duchess of Sussex. Shortly after that, Princess Eugenie came out with her own engagement to wine merchant and UK ambassador of Casamigos Tequila, Jack Brooksbank. Shortly after that, Prince Louis arrived in the Spring on April 23, 2018.
While Kate Middleton isn't technically the family matriarch or anything (Queen Elizabeth II is holding it down there, thanks), she has seemed to assume some sort of mentor-like role. Many people have looked to her for her opinion and advice for Meghan Markle and are wondering what her take on and experience has been at Princess Eugenie's wedding. While we can never know for certain what Middleton said behind closed doors on Eugenie's wedding day, we can check out her outfit.
Honey, she looked great.
Kate Middleton opted for a deep burgundy dress with a small but decorative hat to match it. This time, she wore her hair back.
The dress also featured a slightly fuller bottom and intricate bustling in the back.
Just a reminder, she had a baby just under six months ago and attended Harry and Meghan's wedding mere weeks after giving birth to Louis. Despite what I'm sure is run-of-the-mill new baby fatigue and pressures, Middleton didn't miss a beat in front of the camera. She was, as usual, flawless.
At Meghan's wedding, Kate opted for a more delicate look, rocking a cream-colored Alexander Queen coat dress and matching floral hat. In fact, according to Elle, the coat dress was a repeat outfit she's worn to other important events! Middleton attended her daughter Charlotte's 2015 christening in the same getup and wore the delicate dress the following year to the Queen's birthday. TBH, I can see why. The dress looks beautiful, comfortable, and is in impeccable shape.
While the light coat was perfect for Meghan's May wedding, Eugenie's autumn celebration called for something different. The slightly cooler weather and shorter days lend themselves to richer colors and denser materials, which Kate nailed perfectly. (I also low-key love her in the dramatic color and cut!)
Of course, Princess Eugenie stole the show in her stunning wedding gown that also featured sleeves, an impressive train, and a stunning tiara to top it all off.
This family is nothing if not stylish.