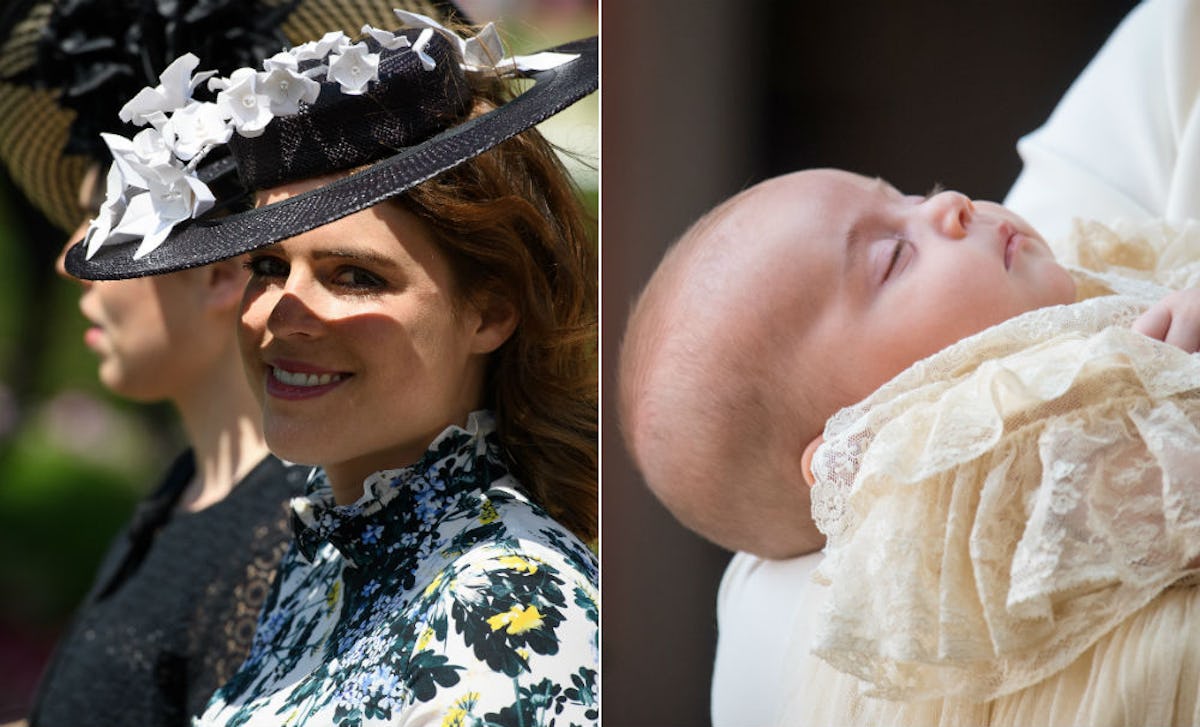 Here Are The Chances That Prince Louis Will Be At Princess Eugenie's Wedding
Leon Neal/Getty Images; WPA Pool/Getty Images
It's getting closer, you guys! I'm talking about Princess Eugenie's royal wedding to Jack Brooksbank which, in case you didn't know, will take place on Oct. 12. I'm a huge sucker for anything related to the royals, and also for anything wedding related. Which makes this event pretty much a win-win for me. And while I seriously can't wait to see these two tie the knot, you know what I'm even more excited for? The possibility of catching a glimpse of Kate Middleton and Prince William's third child! Will Prince Louis be at Princess Eugenie's wedding? Because, OMG, I will seriously freak out if he's not. I mean, c'mon Prince William — just strap the little guy into a royal Baby Bjorn or whatever and go!
It's been more than two months since we got to see the five-month-old during his last public appearance at his royal christening. And that is just waaaay too long. Babies change so fast, you know? But according to royal expert Richard Fitzwilliams, Prince Louis could make an appearance at the wedding. "It is possible Louis might appear with a nanny," he told Express.
That's a good sign, right? Although according to a recent tweet from royal blogger Gert's Royals, the little guy is going to be a no-show.
No official photos?! If this news is true, it's a serious bummer! I really wanna see what the little guy looks like now! I mean, the event will be held over two days — so extra, Eug! — so chances are the Duke and Duchess of Cambridge will trot the kid out at some point... right? There will be a luncheon hosted by Queen Elizabeth after the morning service, followed by a more exclusive 400-person black-tie reception that night at Royal Lodge. Then the party will continue with a second celebration on Saturday.
I am so not jealous of any of this at all.
Anyhoo, according to a royal press release, there will be plenty of other children in attendance at the big event, including Louis' sibs 3-year-old sister, Princess Charlotte, and 5-year-old big bro Prince George. In case you forgot, these adorable kids totally stole the show during Prince Harry's marriage to Meghan Markle last spring, so here's hoping they do it again!
Just check out Princess Charlotte's royal wave:
So on point!
Princess Charlotte will serve as a bridesmaid, and she's pretty much a profesh now, since she copped the same role at the Duke and Duchess of Sussex's wedding, and also at Pippa Middleton's nuptials.
Joining Princess Charlotte as bridesmaids will be: Savannah and Isla Philips (daughters of Autumn and Peter Phillips), Mia Tindall (daughter of Zara and Mike Tindall), Maud Windsor (Prince George's classmate and daughter of Lord and Lady Frederick Windsor), and Theodora Williams (daughter of British singer Robbie Williams and wife Ayda Field).
Meanwhile, Prince George has been tapped to be a page boy — it's his third time, too! — and he will be joined by Louis de Givenchy, son of JP Morgan exec Olivier de Givenchy.
Remember how stylin' he looked at the nuptials of the Duke and Duchess of Sussex?
Can't wait to see what he wears this time around!