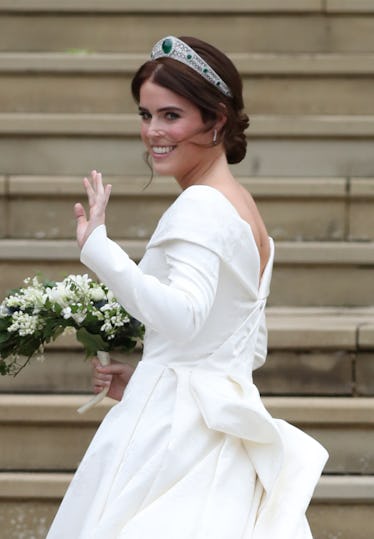 Princess Eugenie & Jack Brooksbank Look So In Love In These Photos From Their Wedding
WPA Pool/Getty Images Entertainment/Getty Images
Happy wedding day, world! Princess Eugenie and her new husband Jack Brooksbank are keeping the royal wedding vibes going with their stunning nuptials. The big event took place on Friday, Oct. 12, and fans tuned in from all over the world to watch her walk down the aisle. People have been dying to see all of the wedding decisions the couple made including Eugenie's dress, the flowers, the bridal party and more, and now we finally have the details. The photos of Princess Eugenie and Jack Brooksbank's wedding are stunning and royal fanatics are eating them up.
In many ways, the wedding between the Duke and Duchess of Sussex Prince Harry and Meghan Markle served as awesome hype for Princess Eugenie's "I dos." The UK has been buzzing all year with the arrival of new Prince Louis plus the double weddings, and this wedding serves a final hurrah for all major royal moments in 2018. People have likely done more royal research than ever before (hi!) and are probably so well versed on the royal family lineage they could recite it in their sleep. (Fun fact: 3-year-old Princess Charlotte is more likely to become Queen than her 28-year-old cousin, Eugenie.)
Life, man.
News about Princess Eugenie and Jack Brooksbank wedding hit after the two had been together for seven whole years. They announced the good news on Jan. 22, nearly two months after Prince Harry and Meghan Markle confirmed their engagement. Eugenie's father Andrew, Duke of York, had the formal pleasure of announcing the engagement on Twitter. He shared: "The Duke and Duchess of York are delighted to announce the engagement of Princess Eugenie to Mr. Jack Brooksbank."
He also included some simple details about the wedding timeline and where his daughter and son-in-law got engaged. (Nicaragua, just FYI.)
Just a short nine-and-a-half-ish months later and the day has finally arrived!
The photos from Princess Eugenie's wedding are breathtaking. There are stunning shots of her walking up the steps into St. George's Chapel, beautiful looks at her tiara and dress, not to mention some awesome shots of guests struggling with what appears to be a windy British day.
Also, she and Jack look so happy. Love.
Take a look:
One of the big things people are surely talking about is Princess Eugenie's wedding dress compared to Meghan Markle's.
Meghan opted for a totally classic silhouette and sophisticated boat neckline. Her veil was massive and included flora and fauna detailing from the 53 countries that make up The Commonwealth. One of the distinguishing features on Meghan's dress was how simple the actual design was. It was totally free of any beading, embellishments, lace, or decoration.
In Princess Eugenie's case, she totally nixed the veil entirely and wore a stunning tiara detailed with what appears to be emerald stones and diamonds. Her dress featured a gorgeous criss-cross back and impressive train.
As the following days pass, fans are sure to get more and more details about the wedding. My advice to Eugenie is to hang this photo above her bed because I think it's totally awesome.
Congratulations, guys!