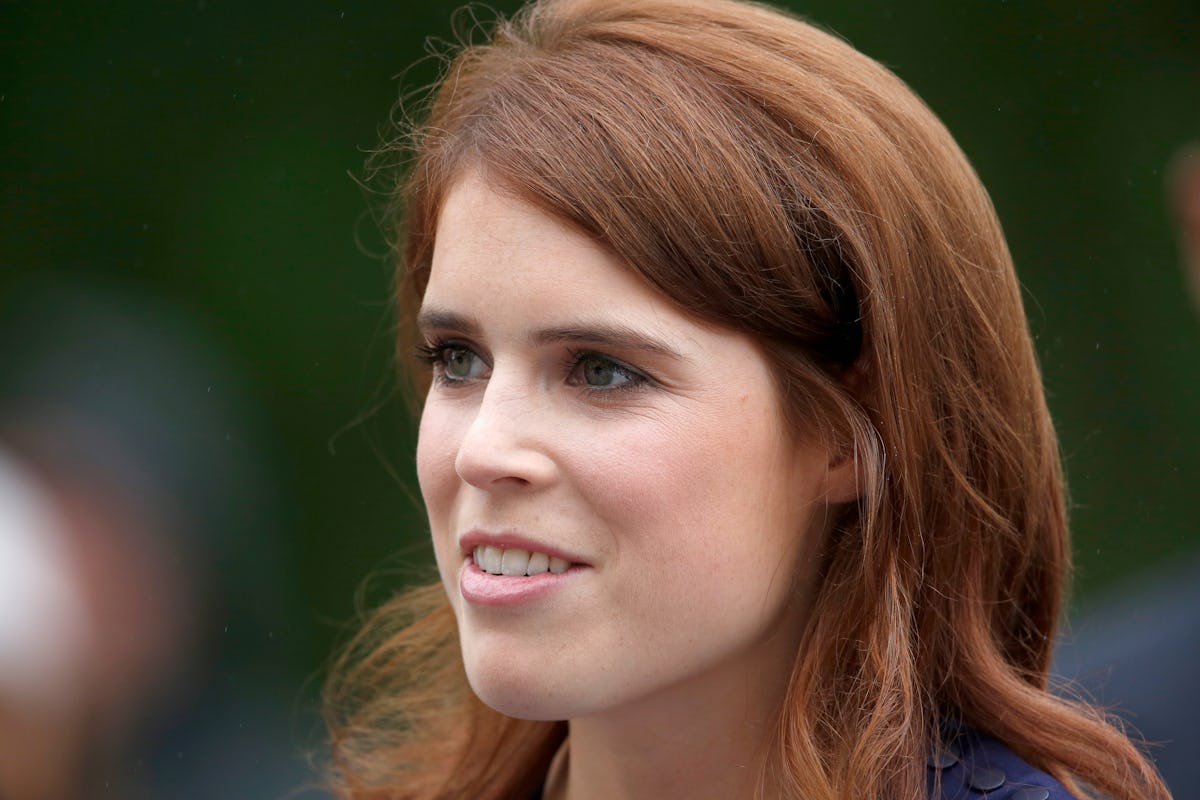 Here Are The Very Slim Chances That Princess Eugenie Will Be Queen
Alan Crowhurst/Getty Images Entertainment/Getty Images
With Princess Eugenie's wedding rapidly approaching, a lot of people are playing catch-up and asking themselves all kinds of questions about the future Mrs. Jack Brooksbank. While many are aware that Eugenie is Queen Elizabeth's granddaughter and cousin to Prince Harry and Prince William, there's one thing they're not so sure of: where she falls in line to the throne. So, will Princess Eugenie ever be queen? It's not likely.
According to Newsweek, Eugenie is currently ninth in line to the throne. So, that means the line of succession would first have to cycle through eight other royal family members before Eugenie would ever be eligible for the throne. Here is how the line of succession will look after Queen Elizabeth:
Prince Charles, eldest son of Queen Elizabeth II
Prince William, eldest son of Prince Charles
Prince George, eldest child of Prince William
Princess Charlotte, second child of Prince William
Prince Louis, third child of Prince William
Prince Harry, younger son of Prince Charles
Prince Andrew, second son of Queen Elizabeth
Princess Beatrice, eldest child of Prince Andrew
Princess Eugenie, younger child of Prince Andrew
Traditionally, males used to receive preference over females. For example, a younger brother would jump the line over an older sister. According to Newsweek, the Succession to the Crown Act, which was enacted in March 2015, "ended the system of male-preference primogeniture and moved to absolute primogeniture." And it was that act that allowed Princess Charlotte to be fourth in line to the throne rather than her younger brother, Louis.
Of course, if Prince Harry and his wife Meghan Markle have any children, they'll push Eugenie down the line even further. So, although Eugenie is currently ninth in line, she could very well be way down on the list in just a few years' time.
Given how many people are ahead of her in the line of succession, it's unlikely that Eugenie will ever be queen. She'll likely retain her title of HRH Princess Eugenie, Mrs. Jack Brooksbank for the rest of her life, so long as she stays married to Jack Brooksbank.
Eugenie and Brooksbank are tying the knot on Friday, Oct. 12 at St. George's Chapel at Windsor Castle. The wedding will reportedly be very similar to that of Prince Harry and Meghan Markle. Eugenie and Brooksbank have invited members of the public to attend the wedding. And the couple will receive the full royal treatment with an open carriage procession. The whole royal family is expected to attend the ceremony, so if you're a fan of the royal family, then you can expect to see all your royal favorites. Prince George and Princess Charlotte will play special roles in the wedding as well. Eugenie reportedly selected George to be a page boy and Charlotte to be a flower girl. So, all the cutest royal kids will be there.
And for those of you who want to wake up early to catch the festivities, Eugenie's wedding will also be televised on TLC.