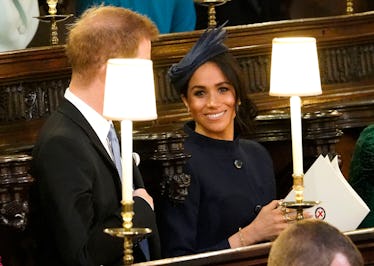 Meghan Markle Is The Definition Of Chic At Princess Eugenie's Wedding
WPA Pool/Getty Images Entertainment/Getty Images
It seems like it was just yesterday that the world watched with bated breath as Meghan Markle, a regular girl from California, lived every little girls' dream of becoming a princess when she married Prince Harry. I mean, sure, she didn't actually become a princess (she's the Duchess of Sussex now), and the wedding actually went down five months ago on May 19, but still! It was so iconic that I remember it like yesterday. So you can imagine how excited I was that another royal walked down the aisle on Friday, Oct. 12. Princess Eugenie married Jack Brooksbank in a beautiful ceremony at St. George's Chapel in Windsor Castle. And honestly, I wouldn't blame you for getting major Meghan and Harry flashbacks watching the ceremony considering they got married in the same exact chapel. But these photos of Meghan Markle's dress at Princess Eugenie's wedding should help you discern whose wedding it is your watching.
Meghan donned a navy dress and coat by Givenchy (same as her wedding dress designer, FYI) with a matching hat by Noel Stewart and she looked absolutely stunning.
Prince Harry was obviously right beside her at the ceremony and he rocked a traditional suit. Only the best for his little cuz, obviously.
And here they are together:
I would imagine they're standing there watching the ceremony go down, thinking to themselves: "So this is what it was like watching us get married, huh?" How could they not have flashbacks attending a wedding at the very same chapel they got married in?
And with Meghan looking so beautiful, can you blame Prince Harry for sticking by her side and looking at her with loving eyes the whole occasion? (You can't see Prince Harry's face in the photo below, but you can see Meghan's eyes looking adoringly at her hubby and assume he's giving her the same gushy look. At least that's what I choose to believe.)
Obviously, Meghan's dress at Princess Eugenie's wedding is a far cry from the stunning Givenchy dress she wore at her own wedding back in May, but what better time to relive that glorious moment than now?
So stunning! Prince Harry left his military uniform at home for this occasion (as not to upstage Jack Brooksbank, obviously).
But back to Meghan's gorgeous look at Princess Eugenie's wedding. Here she is one more time:
Meghan has only been a royal for five months, but she's already solidified herself as a royal style icon. And she's already got a track record of showing up to weddings looking absolutely on point.
Remember when she attended Prince Harry's friend Charlie van Straubenzee's wedding to Daisy Jenks at the church of St Mary the Virgin back in August? Prince Harry was Straubenzee's best man and Meghan did not disappoint with her wedding attire, donning a color-blocked dress that I literally want in my closet this instant.
Basically, Meghan Markle is royal wedding fashion goals and no one can convince me otherwise.