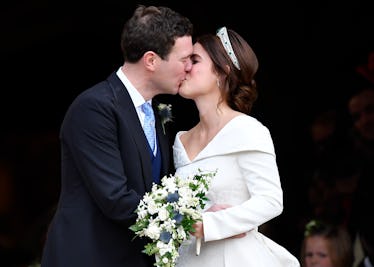 The Reason Princess Eugenie Wore An Open-Back Wedding Dress Is Much More Meaningful Than You Think
WPA Pool/Getty Images Entertainment/Getty Images
Good morning, I can't stop looking at pictures of the royal wedding. Princess Eugenie and her crew looked stunning, and the more I see, the more I love — it's safe to say her lewk will go down as one of the best in royal bridal history. Not only was her gown breathtaking, but when you hear the reason Princess Eugenie wore an open-back wedding dress, you're guaranteed to stan her even more than you already do. She's serving beauty, grace, and a lesson on self-acceptance and body positivity. Is there nothing this bride can't do?
After much speculation in regard to what designer would create Princess Eugenie's wedding dress, much of the public had decided it was between Erdem, Jenny Packham, and Susannah. However, she surprised us all with a wildcard pick and went with Peter Pilotto, who made sure the gown fit all her specifications.
The look was absolute perfection from the front...
...but it's the open back (and the reason Eugenie wanted one) that has people praising the gown as truly iconic:
It's no secret that Princess Eugenie could pull off absolutely any style of gown, but when it came to the most important dress she's worn to date, she wanted it to be more than pretty. The BBC reports that the princess requested an open-back dress so as to proudly display her surgery scar on her back, which was the result of a scoliosis procedure she had at age 12 to fix the curvature of her spine.
In close-up photos, the scar can be seen clearly:
TBH, I was so focused on that incredible train in the wide shots that I hardly even noticed her scar — but now that I do see it, I love Eugenie even more for not wanting to cover it up.
Prior to the wedding, Eugenie let people know that she would be displaying her scar as a way to inspire others who suffer from scoliosis. "I had an operation when I was 12 on my back, and you'll see on Friday," she told ITV's This Morning, "but it's a lovely way to honour the people who looked after me and a way of standing up for young people who also go through this."
This isn't the first time Princess Eugenie has publicly spoken about her experience with scoliosis. She took to Instagram to share one of her x-rays on International Scoliosis Awareness Day:
"I think you can change the way beauty is, and you can show people your scars and I think it's really special to stand up for that," Princess Eugenie told ITV's This Morning, and I have never stanned someone so hard as I did in that moment. Eugenie is the body positive, self-loving princess we didn't know we needed, and we are so not worthy.
I love that it wasn't enough for Princess Eugenie to look incredible — she had to teach us a lesson on self-love and embracing our flaws, too:
Seriously, you guys, Eugenie might be a princess of England, but she's the queen of self-love in my eyes. Congrats on a beautiful wedding, Eugenie, and thank you for using your big day to give us a much-needed lesson on body acceptance.