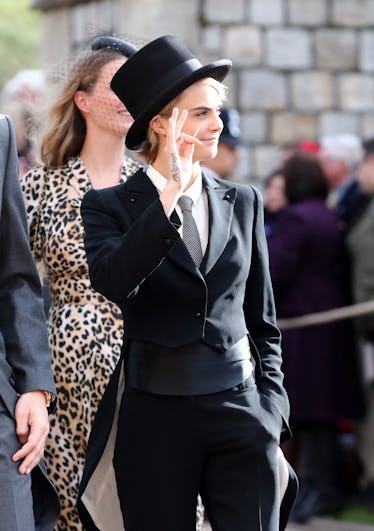 Cara Delevingne Wore A Pantsuit To Princess Eugenie's Wedding Because She's A Boss
WPA Pool/Getty Images Entertainment/Getty Images
Princess Eugenie's wedding was a star-studded event, and celebrities didn't hesitate to dress for the occasion. Out of the famous guests was Cara Delevingne, who showed up to the event wearing something other than a chic dress and a flamboyant headpiece. In fact, Cara Delevingne's outfit at Princess Eugenie's wedding made her look like a total boss. If you were watching the wedding live, you probably noticed the model strolling up to St. George's Chapel at Windsor Castle on Oct. 12 wearing a pantsuit and a top hat. Talk about empowering.
Let's dive a little deeper into Delevingne's outfit, shall we? As you can see, the celebrity guest donned a black pantsuit with a collared undershirt and a black tie. Her suit featured a black blazer and a top hat, which made for a classy (and totally chic) getup. The finishing touch on Delevingne's wardrobe were tails on her suit and black high heels. Not only did the outfit make her stand out in the crowd, but it also broke royal tradition and gave women the confidence to step out of the box when it comes to their wardrobes.
I don't know about you, but I'm feeling pretty inspired by Delevingne's fashion choice.
Perfection, am I right? Take another look:
TBH, I'm a huge fan of the top hat. It's giving me major Stevie Nicks vibes, and I'd love to incorporate it into my wardrobe — but I digress.
Apparently, Twitter is just as obsessed with Delevingne's getup. Many royal wedding viewers tweeted about outfit, talking about how the model courageously broke tradition and "won the royal wedding."
Some people "couldn't care less" about the event, but were infatuated with Delevingne's show-stopping look:
Her outfit was "everything I didn't know I needed."
She certainly stole the show, if you ask me.
Yup, it's safe to say the Twitter universe was absolutely loving Delevingne's confident look. Who knows, maybe more women will show up to more royal events rocking a pantsuit and top hat. I'd definitely be on board with 'em.
If you aren't familiar with Princess Eugenie and her now-husband, Jack Brooksbank, you're probably wondering why Delevingne was even at their wedding to begin with. According to Mashable, Delevingne is Princess Eugenie's friend, which is why she was invited to the event. The empowering celeb strolled up to Windsor Castle with journalist Derek Blasberg, per E! News.
Take another look at their entrance, and try not to swoon too hard:
Again, Delevingne stole the show with her bold outfit — but she wasn't the only celebrity that attended the wedding. According to USA Today, other stars that showed up for the wedding included Ellie Goulding, Demi Moore, Liv Tyler, James Blunt, and more. Needless to say, some major celebrities were in the house (er, I mean, castle).
Still, Delevingne's outfit stood out among the rest. I applaud her empowering fashion choice, and hope more women take fashion risks when it comes to future royal events.
Brava, Delevingne. You're a total boss.