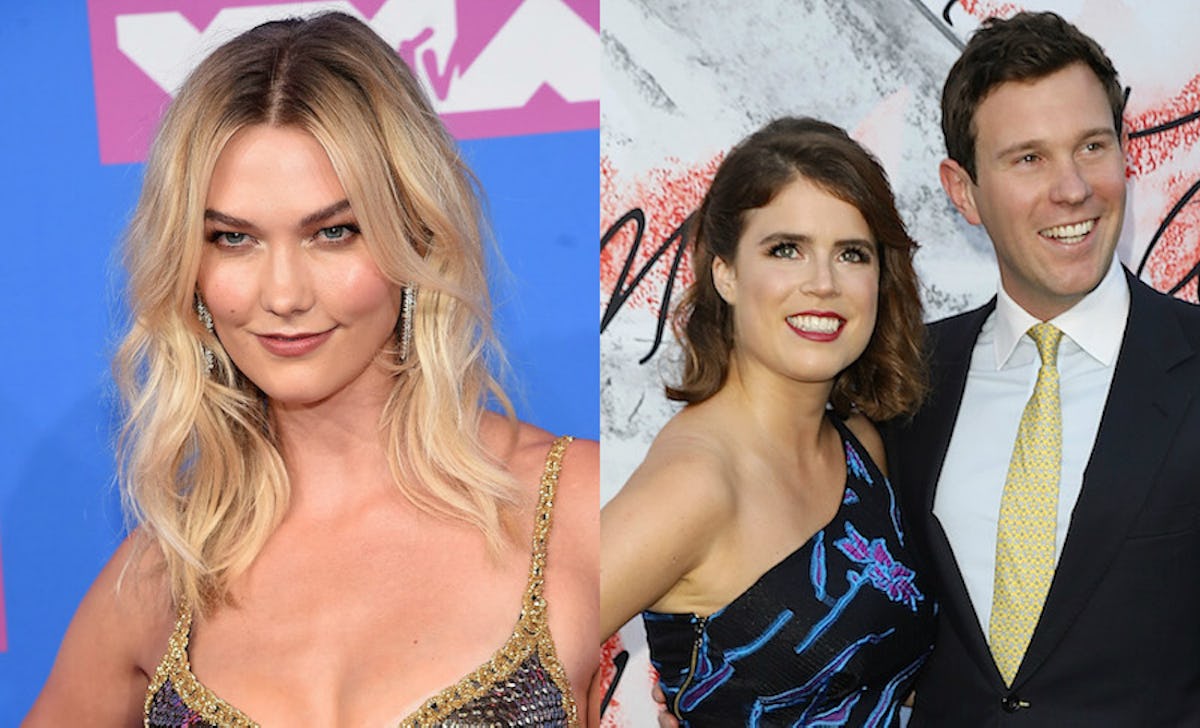 Here Are The Chances Karlie Kloss Will Be At Princess Eugenie's Wedding
Jamie McCarthy/Tim P. Whitby/Getty Images
Princess Eugenie and Jack Brooksbank's wedding is going to be a star-studded event. The couple has apparently pulled out all the stops for their big day at Windsor Castle and, apparently, have also provided their guests with a list of wedding day rules. Some of those guests will include Prince William and Kate Middleton, of course, as well as Prince Harry and Meghan Markle, other various members of the royal family, Elton John, Ellie Goulding, Prince Harry's exes Cressida Bonas and Chelsy Davy, and more. But here's the question: Will Karlie Kloss be at Princess Eugenie's wedding? She's also a famous face who's close to the royal family.
Kloss has been close friends with Princess Beatrice (Princess Eugenie's older sister) for years. In fact, she's the one who accidentally revealed Princess Beatrice's private Instagram account to the world when she got engaged to Joshua Kushner in July. Kloss did what everyone does when they get engaged: she FaceTimed her friends to show them the ring. She posted several screenshots of her friends' reactions to her happy news to her Instagram story, and Princess Beatrice was one of them. The princess's face is shocked and excited reacting to her friend's news, but she might not have been as excited to realize that Kloss had tagged her personal Instagram, @beayork, on the story.
That was supposed to be a secret, Karlie!!
Princess Eugenie is actually the only member of the royal family with a public personal Instagram account. While Prince William, Kate, Prince Harry, and Meghan aren't permitted to have their own accounts because they are "working royals" (aka their jobs are to represent the royal family), Princess Beatrice and Princess Eugenie can have their own accounts because while they are royal, they don't work for the family. (This also means that Jack Brooksbank likely won't get a royal title when he and Eugenie tie the knot on Oct. 12, but Eugenie has the option of taking his last name while still retaining her title of princess.)
Given Kloss' close relationship to Princess Beatrice and the fact that Princess Beatrice and Princess Eugenie are best friends, it's probably safe to assume the princess and Kloss are close as well. They've been seen out together in the past (though not as much as Kloss and Princess Beatrice) and they both consider Ellie Goulding to be one of their close friends, so these two women definitely run in the same circle. It's probably more than likely that we'll see Kloss at the royal wedding at Windsor Castle on Oct 12. Although Kloss is a good friend of the princesses, Princess Beatrice is the only adult in Princess Eugenie's bridal party. (This is typical of royal weddings.)
The royal family confirmed on Oct. 10 that Princess Beatrice is going to be Princess Eugenie's maid of honor, and Jack's brother, Tom, is going to be the best man.
Prince George and Princess Charlotte are also part of the wedding party, along with other cousins of Princess Eugenie and Princess Beatrice.
Eugenie and Jack have apparently sent a list of rules for their guests for the big day, which is, uh, fun!
The rules reportedly state that all gifts should be sent to the Duke of York's office, and no cell phones/social media use will be allowed during the wedding. Sorry, Karlie!