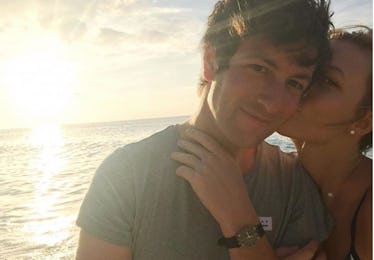 Karlie Kloss & Josh Kushner Are Engaged & The Instagram Photo Is Next-Level Romantic
karliekloss on Instagram
Did you guys hear the really, really, really great news about Karlie Kloss and Joshua Kushner? I know that we're living in a whirlwind romance and engagement kind of world right now (y'all know who I'm talking about), but these two lovebirds have been dating for years and years... and are finally tying the knot! That's right, Karlie Kloss and Josh Kushner are engaged, and even though I technically don't know the couple, I am overwhelmingly happy for them.
According to People, a source close to the couple confirmed their engagement, saying that Kushner "proposed a few weeks ago during a romantic weekend together in upstate New York." Just going to throw it out there that I, too, was proposed to in upstate New York, so what I'm basically saying is that Karlie Kloss and I clearly have a lot in common.
The source added, "They're both overjoyed and happily celebrating. Their hearts are full and they're excited to build their future together."
Karlie Kloss and Joshua Kushner have been dating for six years — which is a lot in the celebrity world — and are a pretty private pair, choosing to avoid PDA and attending very few events together. But Kloss couldn't contain her happiness about her engagement, and took to social media to share the happy news.
Kloss posted to Instagram officially confirming her engagement, writing,
love you more than I have words to express. Josh, you're my best friend and my soulmate. I can't wait for forever together. Yes a million times over 💍
We can't be sure if this photo was posted during their upstate trip, since she's not even casually flaunting an engagement ring or anything, but based on the photo, it clearly looks like they're super in love and equally happy in that pic, so does it really matter when it was taken? Nah.
A source also told People that Kloss converted to Judaism, which is Kushner's religion, in June, saying that Kloss has "never been one to make decisions lightly," adding that, "She spends a lot of time reflecting and learning."
And even though these two are super private about their personal life, let's just take a minute to reflect on how adorable their love is based off of the few pics Kloss has #blessed us with of her and her man on social media.
Like this post, in which Kloss calls Kushner her "ride or die":
Or this one, where Kloss calls Kushner her "best friend in the Universe":
And don't forget this post, which honestly makes me want to cry happy tears:
For Kushner's birthday, Kloss wrote,
My atoms love your atoms, It's chemistry.- @atticuspoetry ❤️🤓🎂🍪❤️ Happy birthday to my best friend and partner in crime. The past 5 years of our adventures together have been some of the best memories of my life. I love you @joshuakushner
BRB, SOBBING.
But most importantly, Kushner's most recent post, calling Kloss his "fiancé":
Yes. Yes. YES!
Honestly, I love how chill these two are about their relationship, and it seems that it's always been that way. In an interview with OK! Magazine, Kloss talked about how she didn't "plan" on falling in love with Kushner initially. She said:
I was definitely not planning on falling in love ... But I think that's the thing about it, you can't anticipate or plan it.
Well, whatever her plans were, everything seemed to work out pretty perfectly in the end. A big congrats to the happy couple!