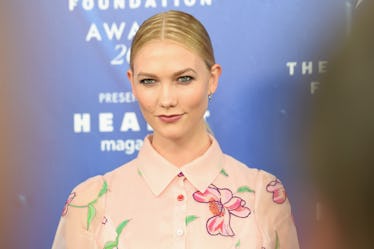 4 Things You Need To Know About Karlie Kloss' Relationship With Joshua Kushner
Nicholas Hunt/Getty Images Entertainment/Getty Images
We know that Taylor Swift has taken over the media with her newest album, Reputation. But how can we, as a nation, leave her BFF Karlie Kloss in the shadows? We can't. No, we won't, because our girl Karlie is doing some pretty big things herself. Like, oh, I don't know... returning to the Victoria's Secret Fashion Show in Shanghai later this month, NBD. And thinking about her looking fly as anything in angel wings leads many to wonder the supermodel's relationship status. So, who is Karlie Kloss dating?
Not one to blow up her personal life on social media, Kloss is pretty tight-lipped about who she dates. And, in a world where certain celebrities will tweet every aspect of their lives, her take on things is pretty refreshing. But still, we'd like to at least get a little gossip from the girl – we're only human, right?
While there's a ton that we don't know, there are some things that we do know.
1. She's supposedly still dating Joshua Kushner.
So let's get this out of the way right at the beginning. Yes, Joshua Kushner has a brother named Jared. And yes, Jared is the husband of Ivanka Trump. Yes, that Ivanka.
But apparently, Joshua Kushner is a pretty good dude, since he and Kloss have been reportedly dating for over five years, despite the fact that there were rumors the couple broke up. She even posted a sweet Instagram tribute on their five-year anniversary in June, with a sappy science love quote:
Kinda love it, if I'm being honest.
And, in an interview with OK! Magazine, Kloss had this to say about her relationship:
I was definitely not planning on falling in love ... But I think that's the thing about it, you can't anticipate or plan it.
While it appears that everything is rainbows and butterflies, there are still those pesky rumors that the two have ended their relationship. Maybe it's because Kloss' Instagram has zero shout-outs to her man as of late, or maybe it's because Kushner reportedly didn't attend Kloss' 25th birthday party; whatever the case may be, the rumor mill runneth over with speculation.
2. The pair vacationed together amid the rumors that the couple called it quits.
While it's not confirmed by Kloss or Kushner, the two reportedly vacationed in upstate New York together, meaning that, although the two rarely are seen together, that doesn't mean they've ended things.
Who knows, maybe they've just been busy. Kloss is a successful model and an entrepreneur, after all. And Kushner is a financial investor who is kind of a big deal in the business world. Maybe they just don't have enough time in a day to see each other. Maybe Kloss has other things to do, like wear fringe dresses and snap her fingers like some sort of bull fighter:
See? BUSY!
3. They didn't break up because of Taylor Swift's new album, Reputation, either.
Sorry, all you Kaylor fans. As much as you want it to be so, Kloss and Swift are not secretly dating – at least, not that we know of. When Swift's album dropped, many of her songs had fans believing that the two have been secretly dating:
And, although they do raise a good point, neither Swift nor Kloss (or heck, even Kushner) has said anything about these rumors. So while anyone who ships Kaylor is notably weeping, I'm going to say that Kloss and Kushner are probably still an item, and Kloss and Swift are just the best of friends.
4. They appear to be going strong in their most recent outing.
You know what they say, the couple that wears the same sunglasses together, stays together. And it's apparently true for Kloss and Kushner, since their most recent appearance in late October shows the two casually walking together on the streets of New York City after what appears to be an intense juice run.
So, if one had to speculate, I'd say that Karlie Kloss and Joshua Kushner are still going strong – honestly, what other reason would you be smiling while holding a bag of juice if not for the person you love being next to you?
In the meantime, we'll just be anxiously counting down the days we get to see a fierce-looking Kloss walk down that runway.