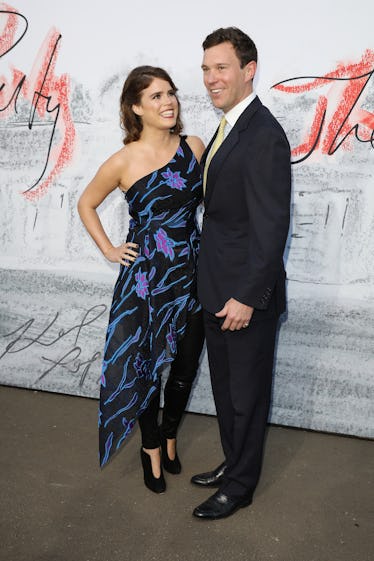 Here's What We Know About Jack Brooksbank's Title After His Wedding To Princess Eugenie
Tim P. Whitby/Getty Images Entertainment/Getty Images
With the royal wedding of Princess Eugenie and Jack Brooksbank quickly approaching, the world is getting excited to celebrate yet another couple tying the knot. And, just like her cousins, Princess Eugenie is also marrying someone who isn't royalty (which, as a non-royal, I'm loving). Look: Prince William married Kate Middleton (now the Duchess of Cambridge), and Prince Harry married Meghan Markle (now the Duchess of Sussex), and now, Brooksbank will be married into royalty as well. But many are wondering: Will Jack Brooksbank get a royal title? According to one report, it looks like he's probably keeping his non-royal status.
A representative for the York family told The Daily Mail that, despite the initial thought that Brooksbank will receive the title of Earl of Northallerton, he reportedly won't receive a royal title after all.
And that lines up with royal precedent, considering commoners that marry princesses have never received royal titles. "There is no precedent for giving a peerage to the commoner husband of a princess on the wedding day," royal historian Marlene Koenig, author of the Royal Musings blog, told Town and Country.
So, if Jack Brooksbank won't be receiving a royal title, then what does that exactly mean for Princess Eugenie?
What it means is that Eugenie will keep her royal title when she marries Brooksbank — he just won't receive a title in the process (unless the Queen steps in, of course, but that's very unlikely). Eugenie will, however, have the "option" to take Brooksbank's last name, which would make her title HRH Princess Eugenie, Mrs. Jack Brooksbank.
And I thought I had it hard with a three-syllable last name.
For the record, a source told the Daily Mail that Princess Eugenie "couldn't care less" about titles, and is "perfectly happy to be Mrs Brooksbank." Can we give it up for true love, ladies and gentleman?
Apparently, there's one more option floating around here: According to The Sun, Princess Eugenie will have the option to continue using her royal title, or get rid of it.
I'm sorry, but get rid of it?
Can you imagine simply throwing away the title of princess? It's predicted that Princess Eugenie will hold onto her title of HRH Princess Eugenie, though. And I can understand why she gave the whole "ditching being a royal" thing a hard pass.
If you're not really sure about this non-royal Jack Brooksbank guy, let me reassure you that he seems like a pretty fantastic catch. He's currently a wine merchant (oh, hello, dream job) and according to Marie Claire, Brooksbank worked at "Chelsea's Admiral Codrington pub and the Markham Inn, where he befriended Eugenie's cousin Prince Harry." Some waiters seriously have all the luck.
In 2016, Brooksbank became the UK ambassador of George Clooney and Rande Gerber's Casamigos Tequila, meaning he's stolen yet another dream job from me. Mr. Clooney, if you're reading this, I love your tequila and would be honored to be your taste-tester.
Yeaaaaah, buddy.
After he was named the UK ambassador, Brooksbank told Hello! magazine:
I am thrilled to be part of the Casamigos family. It is a very exciting time for the brand in the UK as the consumer mindset of the tequila category is shifting ... I look forward to introducing the Casamigos portfolio to new venues and continuing to build a UK based 'House of Friends' network, helping the brand grow from strength-to-strength.
And it looks like Princess Eugenie doesn't have to worry about her soon-to-be husband not getting along with his in-laws, because it seems like her parents, Prince Andrew and Duchess of York Sarah Ferguson, totally approve. After the news of Brooksbank and Princess Eugenie's engagement hit the media, Prince Andrew took to Twitter and wrote:
Jack is an absolutely outstanding young man and Eugenie and he have got to know each other over a number of years, and I'm really thrilled for them. I'm just completely overjoyed for them and wish them every happiness.
Welp, that's adorable.
No matter what title the couple ends up taking, let's give them a standing ovation for being beyond adorable. Cheers to the happy couple!