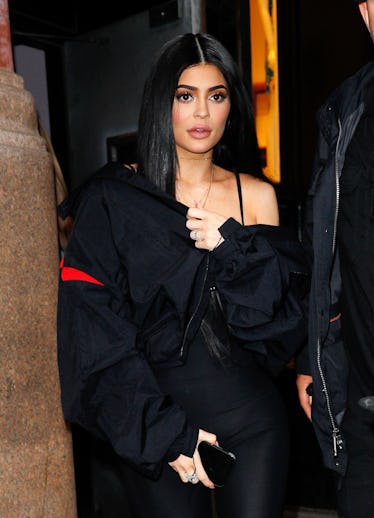 The Kardashians Have Been Hinting About Kylie Jenner's Pregnancy This Whole Time
Gotham / Contributor / Getty
I'm going to be real with you guys. Kylie Jenner hasn't confirmed her pregnancy, so technically we can't say for certain if it's real or fake news. But, if it turns out this woman does not have a bun in the oven, everything I know is a lie and I'm moving to an island to live amongst tropical flora and fauna. Hints Kylie Jenner is pregnant have been running rampant since September, and most of them are coming straight from her family. The evidence is overwhelming, and I'm going to break it all down for you. Let's settle this thing once and for all.
The internet has been going wild these past few months gathering clues and facts from those closest to the makeup mogul, and the media has been doing its best to trick her family into confessing literally anything. So, where would you guys like to begin? The lack of commentary from Kris Jenner? The family Christmas card? Or the fact that whenever any family member is directly asked about Jenner's pregnancy, they all turn into weird robot people who don't know how to use words?
Here are a few of my favorite pregnancy hints that have come directly from Kylie's family.
1. Kris Jenner's Initial Response
If there is one thing Kris Jenner hates, it's false rumors about her kids. When reports about Kylie's pregnancy first surfaced, I thought it would be a matter of minutes before Kris shut them down, but that never happened. In fact, a whole day went by before we heard anything from the family matriarch, and when we did, it was weird AF.
When Kris was asked about Kylie during an interview with The Cut, she responded, "I just woke up this morning. She's not confirmed anything. I think it's kind of wild that everyone is just assuming that that's just happening."
Kris, we're not idiots.
2. Kim Kardashian Drinking A Sardine Smoothie
There are a lot of things I would do for my sibling, but drinking a sardine smoothie to keep a secret is not one of them. During an appearance on The Late Late Show with James Corden, Kim participated in one of Corden's famous games called "Spill Your Guts Or Fill Your Guts."
Corden and Kim took turns asking provoking questions. If one of them refused to answer, they had to eat something disgusting. When Corden asked Kim if Kylie was pregnant, the 37-year-old mother swallowed a big gulp of a sardine smoothie instead of answering the question.
That's loyalty, and also proof.
3. The Famous Family Christmas Card
This freaking Christmas card. For their 2017 Christmas photo, the family participated in an epic 25-day picture extravaganza. Every day in December, a new image of one or several family members hanging out by a Christmas tree was released.
As the days went on, there was no sign of Kylie. Naturally, the public assumed she would appear on Christmas Day in all of her pregnant glory. Alas, this was not the case.
Coincidence? NO, OBVIOUSLY. GOD.
4. Khloé's Awkward Interview With Ellen
Now that Khloé has officially confirmed her pregnancy, she's been running the press circuit. This included interviewing with family friend Ellen DeGeneres.
After discussing Khloé's pregnancy cravings, DeGeneres asked the star if her sister Kylie was having any cravings of her own. Khloé coyly responded, "What do you mean?" DeGeneres pushed, "She's pregnant." Khloé, not giving in, responded, "Oh, I don't know what you're talking about."
YEAH, GIRL. YA DO.
5. Kim's Mysterious "3 Of Us" Instagram
Before we even heard about anyone's pregnancies, Kim posted this mysterious Instagram photo of Kylie, Khloé, and herself. She captioned it, "The 3 of us..." I mean, hello! It would make so much sense if this was our first hint at the three pregnancies!
Even though the family is doing their best to protect Kylie, the proof is in the Kardashian pudding.
Kylie, we're pumped. Blink twice if you're actually pregnant.
Check out the entire Gen Why series and other videos on Facebook and the Bustle app across Apple TV, Roku, and Amazon Fire TV.