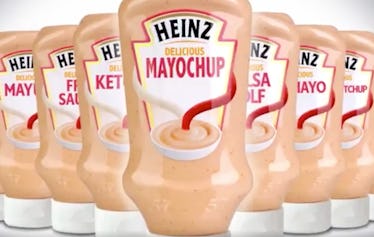 Here's Where Hungry U.S. Citizens Can Buy Heinz Mayochup When It's Out
If you've been following the latest Heinz Mayochup news, then you know the two-in-one condiment is making its U.S. debut this year. Fans of the mayonnaise-ketchup combination will finally be able to pick up a bottle of the stuff they've been craving. So, here's where to buy Heinz Mayochup in the United States.
The good news is that there are a couple ways to get some Heinz Mayochup in your life. You can either buy it in grocery stores when it hits store shelves later this year, or you can order a bottle of this newest combined condiment online, according to Heinz. The name of Heinz Mayochup has been a hot topic ever since it was announced last month, and online orderers will have the opportunity to choose from 96 names for the delicious condiment.
Yes, you read that right. There are nearly 100 name options from which to choose. If the only thing you want to decide is what to eat with your Heinz Mayochup, then you'll be happy to know that when you buy the new condiment in the grocery store, it only has one name: Heinz Mayochup. There is no specific date yet set for this year's release of the Heinz Mayochup, but it will definitely be here this year (!!!).
So, how did Heinz come up with all these names? As with the decision to make Heinz Mayochup available in the United States, Heinz reached out on Twitter to let its customers share what names they liked for this pre-made combination of mayonnaise and ketchup. Some of the choices that made the final cut of 96 names include "Heinz Yum Yum Sauce," "Heinz The Sauce Is Boss," and "Heinz Mayup, Definitely Mayup."
Prior to taking name suggestions, Heinz put the decision of whether or not to bring Heinz Mayochup to the United States in the hands of the Twitter community. In a Twitter poll on April 11, Heinz said it would bring "mayochup" to the United States if it got 500,000 "yes" votes. Well, the people must have really wanted Heinz Mayochup in the United States because in a tweet on April 16, Heinz announced that "mayochup" is officially coming to the United States (Heinz Mayochup is currently only available in the Middle Eastern Gulf States).
Thankfully, bottles of Heinz Mayochup will be available for purchase before the year's end — but what should you do for your "mayochup" cravings until then? Well, you can make your own version of Heinz Mayochup, and it will only take slightly more effort than squeezing the stuff from a bottle. All you need to do is combine Heinz Ketchup with new Heinz Mayonnaise to create your very own "perfect blend," according to Heinz. Dipping fries in your very own homemade "mayochup" sounds like a great (and delicious) way to pass the time until you can load up your cart with actual bottles of Heinz Mayochup.
When the name debate arose at the announcement of Heinz Mayochup's U.S. arrival, many people chimed in with what they already call the combination of mayonnaise and ketchup. For fans of the mixture in Utah and Idaho, they know it as "fry sauce." They should feel right at home with a bottle of "Heinz Fry Sauce" or "Heinz Fry Sauce, Obviously." The Puerto Rican community knows the sauce as "mayoketchup," per The Washington Post. That name made the online naming cut, too, so you can keep an eye out for "Heinz Mayoketchup" as you peruse your "mayochup" name options on the Heinz website.
Really, with 96 name options available, you should be able to find one that sounds perfect for your own bottle of Heinz Mayochup once it becomes available later this year.