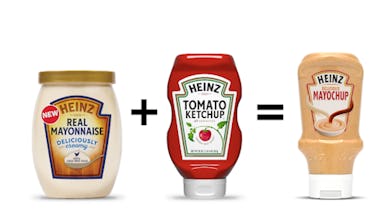 Mayochup Has 96 Different Names To Choose From If You Order Online, So Stock Up Now
HEINZ
Just in case the concept of "mayochup" didn't already completely overwhelm you, here's another stressor. The mayonnaise-ketchup hybrid may not be in the United States quite yet, but Heinz Mayochup's online orders gives you 96 names to choose from. I don't know about y'all, but I'm feeling saucy.
According to Heinz's website, the "bottles will be available in 2018" and on its site there's a selection of 96 varieties of Mayochup to choose from, and if condiments are really your thing, you'll be able to buy it by any of the nearly-100 names. Simply click on the bottle that tickles your fancy and request when the product will be available. Basically, you can totally make this condiment your own by getting to pick the name of the bottle. With so many different options, there's literally a title that'll fit anyone's personality. Need proof? Here you go.
For those looking to stay a bit more traditional, there's a few straightforward options such as "Heinz Mayochup," "Heinz Golden Sauce," and "Heinz Heinz Sauce." These titles are perfect for those who take their sauces very serious, and don't play around when it comes to matters such as these.
Personally, I like to add a little spunk to my sauces. Luckily for me, there's a few sassy titles to choose from. I could definitely see myself ordering a bottle of "Heinz Fancy Sauce For Sure," "Heinz Fry Sass," or "Heinz Heinz Secret Weapon."
Plus, the name "What is this?" basically dares Mayochup nonbelievers to roll the dice and try this sauce oddity.
So what is Mayochup? According to a press release, it's a pre-made blend of both ketchup and mayo. As of right now, it's only available in the Middle Eastern Gulf States, but since Americans discovered this creation they've basically begged for it to make its way to the United States. Well, Heinz apparently heard our pleas because on April 11 they held a Twitter poll asking audiences whether they wanted to see this condiment grace U.S. shelves soon. According to Nicole Kulwicki, director of marketing for Heinz, the poll had to get 500,000 "yes" votes in order to get the sauce approved. Even better? Kulwicki revealed that if it reached 500,000 we could even pick the official name.
She said,
The next question at hand is the final name for this delicious combination. We know our friends in Idaho and Utah are passionate about Fry Sauce, and we've seen lots of other great suggestions online, so if we get to 500,000 votes, we will be giving the nation a say in our final name.
Well, on April 16 the brand announced that Mayochup would officially make its United States debut later this year. Everyone praise the sauce lords for this miracle they have bestowed upon us.
Despite everyone being super excited about the sauce, not everyone was sold on the name. To keep up with audience participation, Heinz asked the public what they wanted to name the latest addition its its brand. In an emailed statement from Heinz, Nicole Kulwicki, director of marketing for Heinz, said,
We know people have combined mayonnaise and ketchup for years and they are passionate about its name. That's why we're asking America to share their suggestions, to ensure our version of this delicious duo gets the name it deserves.
Well Heinz, you asked for it. It's no secret that Twitter has a ton of opinions, and aren't afraid to express them. There were plenty of ideas immediately thrown on the table, but apparently Mayochup has had its own identity for quite some time. From "fry sauce" to "salsa rosada," to "mayoketchup," if I were this condiment I would be experiencing something akin to an identity crisis.
Well, now there's 96 names to choose from. Take a deep breath and pick your poison, people. I know which bottle I'll be adding to my cart.