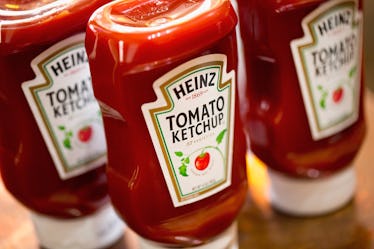 You Can Give "Mayochup" A New Name Before It's Available In The United States
Scott Olson/Getty Images News/Getty Images
"Mayochup" may not be your favorite name to describe a combination of mayonnaise and ketchup, but you have to admit it does a pretty good job of relaying what ingredients are in this pre-made condiment. Ever since Heinz revealed the news that Heinz Mayochup will make its way to U.S. stores this year, the brand has taken notice of the product name's criticism. In an effort to appease condiment connoisseurs, Heinz is giving people the power to help name the new product before it makes its U.S. debut. So, here's how to name Heinz Mayochup before this tasty condiment makes its way to the states.
As soon as Heinz announced on its Twitter page on April 11 that people could vote to bring Heinz Mayochup to the United States (it's currently only sold in the Middle Eastern Gulf States), fans were pumped about the idea of getting a pre-made mixture mayonnaise and ketchup — but they had some feelings about the name. The votes in favor of bringing "mayochup" stateside racked up quickly, and Heinz announced in a tweet on April 16 that Heinz Mayochup is set for a 2018 debut in the United States. Not only that, but fans can voice their opinion on Heinz Twitter page about what this condiment should be called.
If dipping your fries in Heinz Mayochup doesn't sound like the right way to enjoy this combination, then you have until Friday, April 20, to get your suggestion for a new name heard on Twitter, according to Heinz.
Heinz really wants to hear from you, too. In an emailed statement from Heinz, Nicole Kulwicki, director of marketing for Heinz, said,
We know people have combined mayonnaise and ketchup for years and they are passionate about its name. That's why we're asking America to share their suggestions, to ensure our version of this delicious duo gets the name it deserves.
If Twitter is any indication, then people are very passionate about what they call this mayonnaise-ketchup combination. The Puerto Rican community calls it "mayoketchup," and Latin American fans know it as "salsa rosada" or "pink sauce," according to The Washington Post.
Mixing mayonnaise and ketchup isn't only an international speciality, though. People in Utah have been dipping their french fries in "fry sauce" for years, according to The Salt Lake Tribune. Idahoans also enjoy themselves a dip into some "fry sauce."
While it's clear people already have plenty of monikers for this tasty sauce combination, Heinz is interested to hear what else you think would be a fitting name for Heinz Mayochup. You can also totally be "Team Mayochup" if you dig the name Heinz has already given the product. It doesn't matter which side of the name debate you find yourself on, but you do have to make your voice heard on Twitter before April 20 if you want your suggestion to be up for consideration.
After you let Heinz know what "mayochup" should be called, you might find yourself craving a bottle of the stuff. Unfortunately, there is no set date for the U.S. arrival of Heinz Mayochup, but you can satisfy your condiment cravings with a little homemade "mayochup" action in the meantime. Since Heinz Mayochup is made with Heinz Mayonnaise and Heinz Ketchup that are already available on store shelves, you can whip up a batch of your own "mayochup" (or whatever you want to call it) by combining New Heinz Mayonnaise, which is made with 100 percent cage-free eggs, and Heinz Ketchup. It might not be an exact replica of the bottled Heinz Mayochup, but it should still be delicious nonetheless.
Once you get a taste of what the "mayochup" will be like, you can make a more informed decision about what it should be called (it's not snacking; it's research!). So, go ahead and enjoy some homemade "mayochup" and then chime in on the Heinz Twitter page with your best name suggestion.