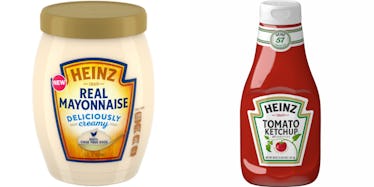 Here's How To Make Your Own "Mayochup" If You're Craving The New Condiment
Condiment lovers everywhere have been talking all about Heinz Mayochup lately, and there's a good reason for it. This product combines mayonnaise and ketchup, which makes for the perfect addition to almost any food. While the pre-made mixture of "mayochup" comes in one bottle for your convenience, it won't arrive in U.S. grocery stores until later in 2018. So, here's how to make Heinz Mayochup if you can't wait any longer to enjoy this tasty combination.
If you're only now getting caught up with all the "mayochup" news, let me hit you with the major bullet points. It all started back on April 11 when the Heinz Twitter account put the decision of whether or not to bring Heinz Mayochup to the United States into the hands (and votes) of the people. Currently, Heinz Mayochup is only available in the Middle Eastern Gulf States. After the votes were counted, it was revealed by Heinz on April 16 that "mayochup" is set to debut stateside later this year (yay!).
You'll probably enjoy quite a few meals that could be elevated by "mayochup" before Heinz's version arrives, so it's best to get in the kitchen and mix up your own while you wait for it.
It couldn't be simpler to do, either. According to Heinz, you can combine Heinz Ketchup with new Heinz Mayonnaise to create your own "perfect blend." It's slightly more work than squeezing it right out of a bottle, but it's better than living in a world with no "mayochup" at all, right?
After you've created your at-home "mayochup" masterpiece, you can use your flavor experience as inspiration to help you submit a name for the Heinz Mayochup for when it makes its U.S. debut. As soon as Heinz announced the upcoming arrival of Heinz Mayochup in the United States, the news sparked a debate over what the product should be called.
Heinz recognized the discussion of the product's current moniker, and the brand asked fans of the condiment to offer their suggestions for what to call the product when it arrives stateside. In an emailed statement from Heinz, Nicole Kulwicki, director of marketing for Heinz, said,
We know people have combined mayonnaise and ketchup for years and they are passionate about its name. That's why we're asking America to share their suggestions, to ensure our version of this delicious duo gets the name it deserves.
People have plenty of suggestions for what to call this mayonnaise-ketchup combination. You can make your voice heard on the Heinz Twitter page through April 20.
As the Heinz tweet from April 16 said, you can be on "Team Mayochup," or you can offer up a different suggestion. Stuck on what name you think Heinz Mayochup should be called? Don't worry, there are plenty of suggestions floating around on the internet. You can take a cue from the Puerto Rican community, who calls it "mayoketchup," according to The Washington Post, or you can follow the lead of Latin American countries like Colombia, Venezuela, and Costa Rica that refer to the condiment as "pink sauce" or "salsa rosada," per the paper's reporting.
Another name for the dip-worthy condiment is "fry sauce," thanks to Utahans and Idahoans. One other name that is gaining a lot of traction amongst "mayochup" fans comes from the 2008 Will Ferrell classic movie, Step Brothers. No, people aren't suggesting Heinz fits "The Catalina Wine Mixer" on the Heinz Mayochup label, but they are very much here for calling it "fancy sauce" (aka the mayo-ketchup mixture Ferrell's character prefers for his chicken nugget dipping needs).
No matter what you think Heinz Mayochup should be called, you still won't be able to enjoy it right out of the bottle until it arrives in the United States later this year. Thankfully, you can create a homemade version of "mayochup" with Heinz Mayonnaise and Heinz Ketchup to hold you over until its arrival, so you won't be totally deprived of the tasty condiment as you count down to when Heinz Mayochup is finally available stateside.