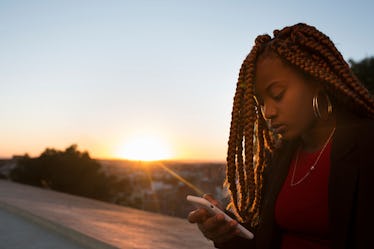 6 Tips For Reducing Fear Of Texting When Dating Someone New
Texting can be so confusing. How often you should text, whether or not you should text first, how many emojis and exclamation points to add, and seeing their read receipts can all cause anxiety. Even if they seem like minor worries, for some, texting anxiety is real! But the good news is, you're not alone and there are plenty of ways to work on it. I spoke to a few experts about how to reduce your fear of texting when dating, and their tips could very well help you get over your texting anxiety.
"Texting someone new can make anyone nervous," online dating expert Julie Spira tells Elite Daily. "Since you can't hear the sound of their voice, you don't know how the text will be received. Add into it, the timing of the response: Should you respond late at night, or wait until the morning?" It's a lot to think about. You may be worried about coming on too strong in the early stages of a relationship, or doing the exact opposite and making it seem like you're playing hard to get, or literally just how they're perceiving you when all you want is to make a good impression. Regardless of the reason for your fear of texting, you may want to consider applying any of these six tips to your texting habits with your new bae.