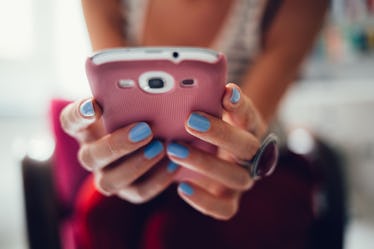 Here's How To Create Healthy Texting Habits In Your Relationship, Because It Can Be Tricky
Picture this: You're sitting on the train on the way to work one day, and you're completely glued to your phone. Since you're not constantly with your significant other, you text each other 24/7, and honestly? It can be a little draining. Maybe they just want to know that you're safe all the time, and that's sweet! But whatever the case, learning how to create healthy texting habits in your relationship might be a good way to practice self-care. Because seriously, taking a break every now and then can certainly be a good thing.
Listen, I totally get that a lot of relationships in today's world rely heavily on texting. Trust me, my fiancé is a firefighter and is gone for 24 hours at a time, and texting is our main form of communication on those days. But on the other hand, having to constantly text someone might make you neglect other, important areas of your life. More so, if the reason you're constantly texting your partner is due to mistrust, that's something that needs to be addressed.
So, how do you find the balance between being there for your partner and communicating well, but also not being attached to your phone 24/7? It's hard, but it's also totally possible, babes.