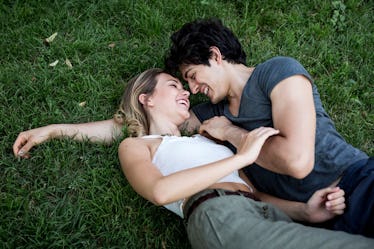 When Your Relationship Is Solid, Here's How Experts Say You'll Know
It's no secret that maintaining a healthy and happy relationship can take some concentrated effort and dedication. That said, having a stable partnership can be a really amazing thing. If you're wondering how to know your relationship is solid, then you're not alone. Being in a relationship that meets the needs of both partners can feel so satisfying on an emotional, physical, and even psychological level. So, how do you know if you and your bae are on the right track, or if there are some areas that might need work? Well, according to NYC-based relationship expert and love coach Susan Winter, the characteristics that define a solid relationship are surprisingly straightforward.
Although the specific ways every relationship functions are different, notes Winter, the healthy attributes of most relationships usually fall into a few general categories. "Safety, security, and peace of mind are the hallmarks of any healthy relationship," Winter tells Elite Daily. "But, the ways in which these characteristics express themselves can differ vastly from relationship to relationship, as each couple has their own love model." Although no relationship is absolutely perfect, if the following things are true, then chances are you and your SO have built a solid foundation for your love to grow.