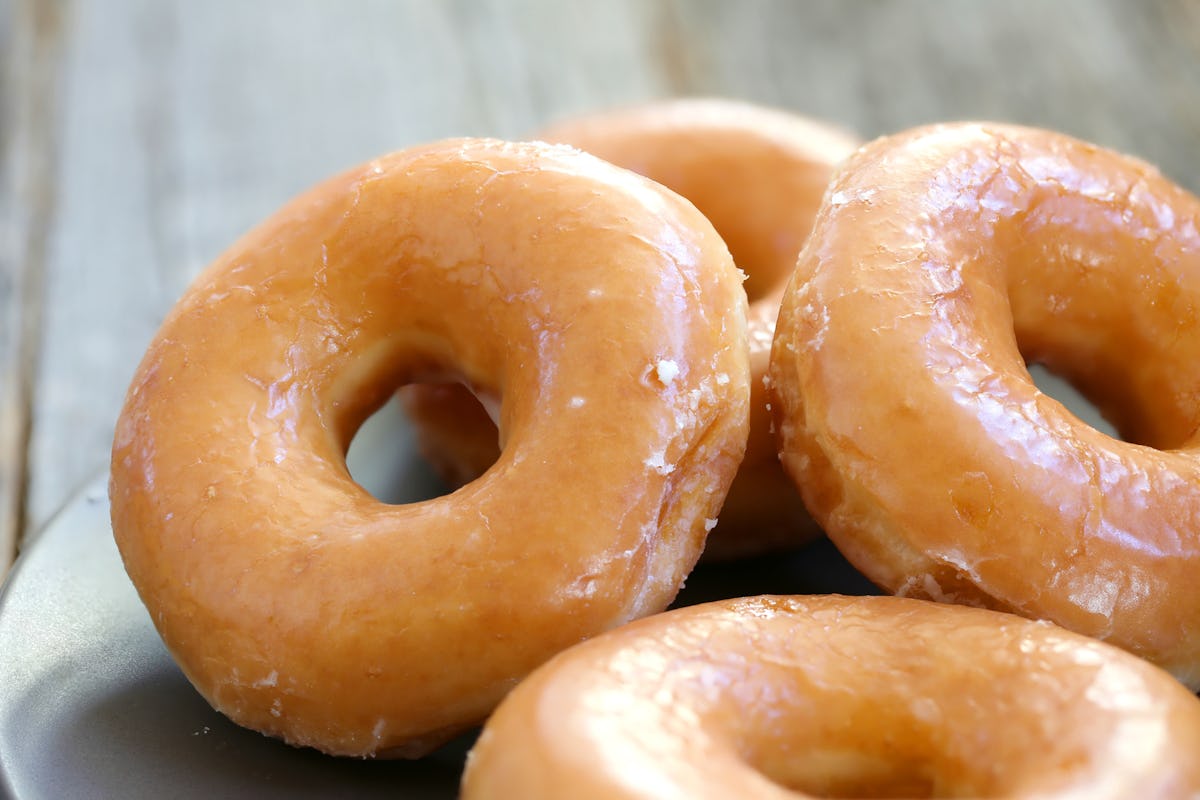 Walmart Is Giving Away 1.2 Million Donuts On National Doughnut Day & I'm On My Way
Scoring free goodies is one of the best ways to properly honor National Doughnut Day. The sweet holiday falls on Friday, June 1 this year, and there is no shortage of companies serving up delicious doughnut deals. You could even snag one of your favorite breakfast pastries for free while doing your weekly shopping when you hit up this national chain store. Here's how to get free donuts at Walmart so you can celebrate National Doughnut Day in the sweetest way possible.
If you don't automatically think of doughnuts when you think of shopping at Walmart, I can definitely relate. Although, I generally have doughnuts on the brain more often than not, so it's not really that big of a leap. Anyway, Walmart is getting in on all the National Doughnut Day fun on June 1.
According to Walmart, the retail giant is giving away a whopping 1.2 million glazed donuts in its stores nationwide on Friday. All you need to do to get in on the tasty donut action is walk into your local Walmart and head to the bakery section where you can get one free glazed donut per customer. The promotion will take place all day on June 1 (while supplies last), but keep in mind that store hours at different locations may vary. So, make sure you check that your location is open before you head over for your free glazed donut.
My sweet tooth would be hard-pressed to find anything more satisfying than a perfectly glazed doughnut. Oh, warm it up, you say? Well, if you're totally into some fresh-out-of-the-oven doughnut action, you can head to your local Krispy Kreme location on your National Doughnut Day Crawl (National Doughnut Day Crawls aren't technically a thing, but I highly suggest you make it a reality on June 1 in an effort take advantage of all the deals).
Back to the free Krispy Kreme doughnut deal. Similar to the Walmart deal, all you need to do is show up to get your free treat celebrating the best holiday ever. You can take your pick of any one doughnut on the menu for free when you go to your local Krispy Kreme store on Friday, June 1. That's right, you can choose from any flavor for free by simply showing up on National Doughnut Day.
In an effort to really push this idea of a National Doughnut Day crawl, here are the other National Doughnut Day deals happening on Friday, June 1. On the doughnut docket, you have Dunkin' Donuts giving away a free classic doughnut (while supplies last) with any beverage purchase at participating Dunkin' Donuts locations. If you were wondering what flavors are considered "classic," then you'll be happy to learn that Boston Kreme, Glazed, Glazed Chocolate, and Strawberry Frosted with Sprinkles are all up for grabs with the deal.
Another doughnut deal that sounds equally as delicious is Tim Hortons' 24k Gold Timbits giveaway. Only five lucky customers will win these honey-dipped donut holes that are covered in edible 24k gold and free Tim Hortons donuts for a year. If you visit a location in Buffalo, New York; Columbus, Ohio; or Detroit, Michigan, then you could have a shot at the donut prize. To win, be the first customer at your location to ask for the "Gold Timbits."
These other doughnut offers require a little less work and whole lot more guaranteed doughnut goodness.
If you're popping by Cumberland Farms on National Doughnut Day, buy a "dispensed drink," and a free doughnut is all yours from 5 a.m. until 10 a.m on June 1. Finally, if you end every week with pizza Friday, you can celebrate both your favorite dinner and National Doughnut Day when you order from Papa John's on Friday, June 1. When you make any online pizza order from Papa John's on Friday, you'll get a free order of the brand-new caramel-filled Donut Holes.
Well, it sounds like you might have your work cut out for you in order to hit up all the National Doughnut Day deals on June 1, but you can fuel up with a sugar rush, thanks to your free Walmart glazed donut — and then you can check off all the other great deals for your sweetest National Doughnut Day yet.