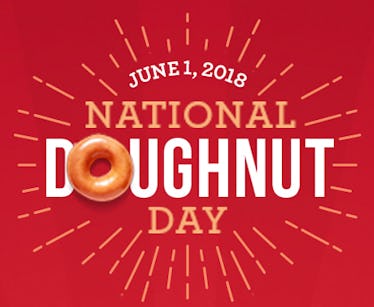 Krispy Kreme Is Celebrating National Doughnut Day With This Sweet Deal & I Need It
If you forget about National Doughnut Day every year until it's too late to officially celebrate the day, then I am here to give you fair warning that the sweet holiday takes place on Friday, June 1 this year. OK, now that I've got that out of the way, let me tell you about the delicious doughnut deals you can take advantage of to celebrate the tastiest holiday of the year. If a warmed-up glazed doughnut is what you crave, then Krispy Kreme is your best bet. With that, here's how to get a free Krispy Kreme doughnut on National Doughnut Day.
A sweet deal like this one might sound too good to be true, or you might wonder what the catch is. Well, the good news is that the deal is as straightforward as it sounds, and the only "catch" is that you need to make sure you ask for your free doughnut. According to a Krispy Kreme press release, participating Krispy Kreme shops in the United States and Canada will offer one free doughnut per customer on June 1 in celebration of National Doughnut Day.
You don't have to purchase anything to take advantage of the offer. All you need to do is select your favorite doughnut from the entire Krispy Kreme menu (no exclusions, you guys!), and it's all yours for free on June 1.
Make sure you remember to hit up your local Krispy Kreme on June 1, because the one-free-doughnut deal is only good on National Doughnut Day. This stellar deal is exciting for Krispy Kreme customers, but it turns out that Krispy Kreme is just as excited about offering this killer deal. Jackie Woodward, chief marketing officer of Krispy Kreme, shared in the press release,
Providing our guests a free doughnut of their choice on National Doughnut Day has become quite a tradition here at Krispy Kreme. We can't wait for our fans to enjoy their favorite Krispy Kreme doughnut on us! We just love this day.
Who wouldn't love National Doughnut Day?! Are you guys mentally preparing for which doughnut you'll choose as your free flavor on June 1? I know it will definitely be a tough decision, because there are so many worthy options. You could keep it classic with an Original Glazed Doughnut, or you could snag a Chips Ahoy! Doughnut before the limited-time treat leaves the menu. Whatever you choose, I'm sure it will be delicious.
While you're perusing all of the flavors you can choose from for your free doughnut (choose wisely, because you only get one), you can also check out which Krispy Kreme locations near you are participating in the National Doughnut Day deal by visiting the Krispy Kreme website. Then, you'll be totally prepared for National Doughnut Day, and you won't have to worry about any location snafus keeping you from a delicious, free doughnut on June 1.
Per the Krispy Kreme release, there are "dozens of varieties" from which to choose when it comes to picking out your free sweet treat. If you're set in your doughnut-flavor ways, you can help out the more undecided doughnut lovers on June 1 when you post about your free doughnut. You can show your doughnut pride on social media with the #NationalDoughnutDay hashtag. Also, make sure you tag @krispykreme to help inspire your fellow doughnut fans with your expert doughnut choices.
Again, you have to wait until June 1 for your free doughnut, but you can take advantage of another limited-time offer when you buy a Blueberry Glaze Doughnut before it leaves the menu on Sunday, May 27.
The one-of-a-kind fruity glaze flavor debuted on the menu on Monday, May 21, but it's only available for a week, so you should get them while you can.
Honestly, enjoying a dozen Blueberry Glaze Doughnuts sounds like the perfect pregame for National Doughnut Day. Plus, since the Blueberry Glaze Doughnut isn't an option for your free doughnut on National Doughnut Day, you'll be ready for a whole new (free!) flavor experience once June 1 rolls around.