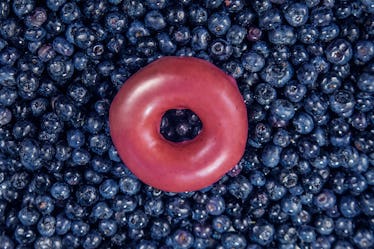 Krispy Kreme's New Blueberry Glaze Doughnut Is The Perfect Springtime Sweet
When it comes to eating sweets, I'm ready to indulge any time of year. While I am always down for a sugar rush, there are certain flavors that pair better with specific seasons. For example, when it comes to spring and summer, you can't go wrong with a fruity bite. Krispy Kreme seems to have gotten that memo, because the doughnut chain is releasing a brand-new flavor just as the weather is warming up. Krispy Kreme's Blueberry Glaze Doughnut is here, and it's the best way to start any spring morning.
Krispy Kreme announced the tasty news in a press release on Tuesday, May 15. Per the release, the new Blueberry Glaze Doughnut will arrive in participating Krispy Kreme stores in the United States and Canada on Monday, May 21. Blueberry sounds like a popular flavor, so you might be surprised to learn that this is a new, one-of-a-kind glaze flavor from the doughnut chain.
It turns out, you have Krispy Kreme fans to thank for the new flavor. Back in January 2018, fans participated in a #VoteForGlaze campaign to choose a new flavor. Now, the Lemon Glaze Doughnut took the top spot, but Krispy Kreme noticed that blueberry also racked up a ton of votes.
Thanks to the fruity flavor's popularity, you can enjoy the Blueberry Glaze Doughnut from May 21 through May 27.
Brittany Dubin, culinary innovation lead at Krispy Kreme Doughnuts, explained in the press release how the new Blueberry Glaze Doughnut came about. Dubin shared,
When we looked at how America voted, other flavors received a lot of support and Blueberry stood out as a unique and exciting culinary challenge that inspired my team – so, we went straight to work to tackle the classic flavor experience of blueberry in a way that only Krispy Kreme can: our glaze.
What kind of flavor can you expect when you bite into the new Blueberry Glaze Doughnut? Per the release, the Krispy Kreme culinary innovation team created a fresh and fruity blueberry glaze that covers the same doughnut you already crave in the Original Glazed Doughnut.
As you await the one-week-only debut of the Blueberry Glaze Doughnut on May 21, you can look back at its Lemon Glaze Doughnut predecessor to know what to expect. Dubin explained in the release how the new flavor was received back in April. She said, "Fans fell in love with our Lemon Glaze Doughnut, which won America's vote earlier this year, and have been craving more."
I'll bet that people have a similar reaction once they try the new Blueberry Glaze Doughnut. Plus, the fruity glaze flavor is available through Saturday, May 27, which means you can pick up a box as your contribution the Memorial Day cookout you're headed to. What better way to welcome summer than with a fruity twist on a classic favorite?
While you're probably ready to taste the Blueberry Glaze Doughnut ASAP, you do have to wait until it arrives on May 21. Don't worry, Krispy Kreme has no shortage of tasty flavors to hold you over until then. Last month, the doughnut chain released some seriously delicious new flavors inspired by your favorite childhood cookies.
Krispy Kreme's Chips Ahoy! Doughnut and Nutter Butter Cookie Twist Doughnut might sound like something out of your wildest doughnut dreams, but they are 100 percent real. The cookie-inspired doughnut flavors were released on April 10, and you can enjoy them for a limited time this spring.
If you're wondering what the next flavor on the Krispy Kreme doughnut docket might be, the other flavors in January's #VoteForGlaze contest could be a good clue. Caramel was the second-place winner, and a maple flavor came in last place. If you ask me, you put those two flavors together and create the ultimate caramel-maple glazed doughnut.
Sadly, I'm not a part of the Krispy Kreme flavor-creation process, so I'm just going to leave this suggestion here and hope for the best. In the meantime, you can mark your calendar for May 21, because the Blueberry Glaze Doughnut sounds like a flavor you do not want to miss.